Click on the photos to enlarge the size. Photo source is
dailymail.co.uk.
In addition to
floral art festival in Genzano
Italy, here is another large scale flower carpet decorated in the city of Brussels (Belgium) every two years. There is a central square in the city of Brussels (Belgium).
It is called Grand Place (French) and also known as Grote Markt (Dutch). Every other year there is a show of flower carpet made on the Central Square. In 2016 20th Flower Carpet Anniversary is going to be celebrated from 12th to 15th of August.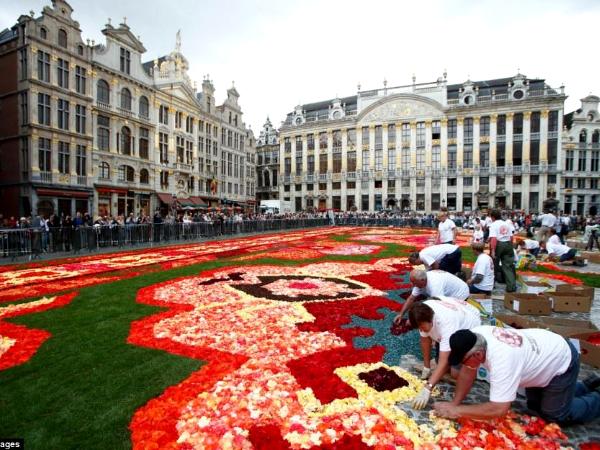 The size of flower carpet is 75m (length) x 24m (width) which will be covered with 600,000 flowers. The decoration of flower carpet was made in 1971 for the first time. Since 1986 this event has been taking place every other year. And now this is one of the most famous flower carpet events in the world.
In order to implement this kind of large scale yet well organized project, lots of people must work together helping one another. The website of http://www.flowercarpet.be/en explains as follows: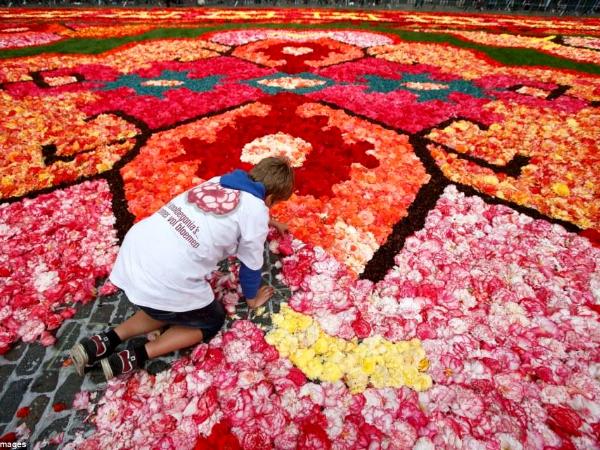 Every two years, the non-profit association Tapis de Fleurs brings together a committee of professionals (illustrators, graphic designers, landscape architects) who come up with scale projects, with each edition illustrating a different theme (the commemoration of major events, a country, a continent, the coat of arms of a city, etc.).
Once the theme has taken shape in the form of a model and symbols, the number of flowers is calculated and the combinations of colours are established. The hundreds of thousands of cut flowers necessary for the composition can then be reserved, very long in advance.
Several days before the inauguration, a full-size drawing is executed on sheets of micro-perforated plastic that are laid down atop the cobblestones of the Grand-Place. The works can then begin.
We are pleased to introduce famous floral festivals. If you love flowers and want to learn floral designs, we can help. You can choose your favorite course from our
Wide Range of Programs
. For those who have no experience, we recommend under mentioned programs:
For more information, feel free to contact info@california-academy.com
Here is YouTube video introducing Brussels Flower Carpet 2014. Source of this video is
Farrukh Younus
.


Be the first to post a comment.

California Flower Art Academy
has been engaged in teaching a wide range of floral designs in the San Francisco Bay Area and Silicon Valley (San Jose) since 1990 as a floral school certified by Flower Decorators Association (Tokyo Japan). We offer hands on training of ONE ON ONE instructions (semi private lessons) which greatly help entry level students easily and quickly earn a decent level of skills. If you are looking for a reliable floral arrangement instructors or floral design school offering quality classes with cheap, inexpensive and affordable tuition in the San Francisco Bay Area (San Mateo County) or Silicon Valley (San Jose, Santa Clara County), why not join
California Flower Art Academy
? We help you make a difference in floral art.
RSS
|