Click on these small photos to enlarge the size. All these flower arrangements were designed and made by our students under the directions of our instructor during real lessons in the classroom of
California Flower Art Academy
. Photos were taken in our classroom. Our students request the school to hold a special lesson for making a certain designs that they found on the internet.
If such student has been learning flower arrangement at our school for a long period of time and our instructor judges that he/she qualifies to learn such special (or custom) design arrangement, we offer a special class accordingly. There is no special name for these arrangements.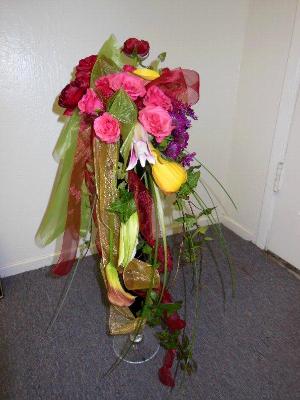 We call "Free Style Arrangement" for this kind of decoration that can be freely designed and freely arranged according to the idea and a design concept of our student. All of them are vertical arrangement and suitable for the display at a party entrance, office reception as well as the foyer decoration for welcoming guests into a house.
Every time we upload photos showing floral designs made by our students, we recognize that our students are doing pretty nice job and believe that the way we teach at our school is right. Believe it or not, we are getting more and more confident in teaching fresh flower arrangements to beginner students.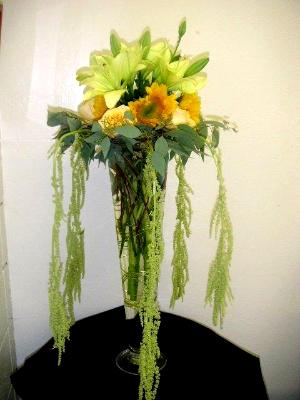 And certainly our instructors are very happy with a wonderful output our students make . No matter whether you have previous experience in flower arrangement, once you join our school where you are fully trained, you can earn a good floral design skill for making these kinds of arrangement without any doubt.
Some of prospective students who approach our school refer to flower designs introduced on our website and they express their wish for being trained at our school for making such arrangements. As far as you diligently follow instructor's directions and advice at the classroom and make reasonable practice at home, you can definitely earn a decent floral design skill.
California Flower Art Academy
is a tiny floral design school founded in 1990 since we have been teaching a variety of flower arrangements in the San Francisco Bay Area and Silicon Valley (San Jose) as a floral design school certified by Flower Decorators Association (Tokyo) who is one of the best established and largest floral organization in Japan. We offer a
Wide Range of Programs
so that we can comply with various requirements from our students. Regardless of the type of designs, European or Japanese arrangements, beginner to professional level, home decoration to office arrangement, hobby design to corporation arrangement AND wedding to funeral decorations, we are more than happy to train you so you can be an active floral designer.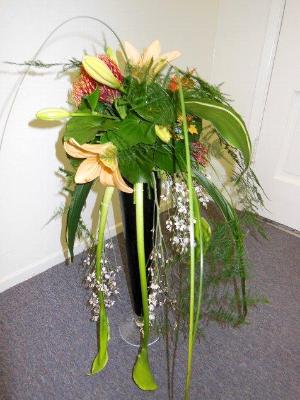 Among people who learned fresh flower arrangement at our school, we can find lots of people who are enjoying floral designs as a hobby, working as a volunteer floral designer to help decoration at a church, running floral shop and offering party flower decorating services.
If you are living in the San Francisco Bay Area (San Mateo County) or Silicon Valley (San Jose) and seriously want to earn practical skills of flower arranging, we can help. From a
Wide Range of Programs
we offer, you can make a choice of your favorite program considering your budget, taste, purpose and final goal for learning floral designs.
For those who have no previous experience and need to start from scratch, we would like to recommend following programs:
A. European arrangement:
B. Japanese floral art:
If you are specifically interested in wedding flower decorations, you MAY find following information quite helpful. Under mentioned programs are offered for people who would like to earn practical skills for wedding floral arrangements:
For those who are too busy to take weekday lesson or daytime classes, we recommend
Weekend Class
and
Evening Lesson
as well. For further information, please do not hesitate to contact us at info@california-academy.com


Be the first to post a comment.

California Flower Art Academy
has been engaged in teaching a wide range of floral designs in the San Francisco Bay Area and Silicon Valley (San Jose) since 1990 as a floral school certified by Flower Decorators Association (Tokyo Japan). We offer hands on training of ONE ON ONE instructions (semi private lessons) which greatly help entry level students easily and quickly earn a decent level of skills. If you are looking for a reliable floral arrangement instructors or floral design school offering quality classes with cheap, inexpensive and affordable tuition in the San Francisco Bay Area (San Mateo County) or Silicon Valley (San Jose, Santa Clara County), why not join
California Flower Art Academy
? We help you make a difference in floral art.
RSS
|