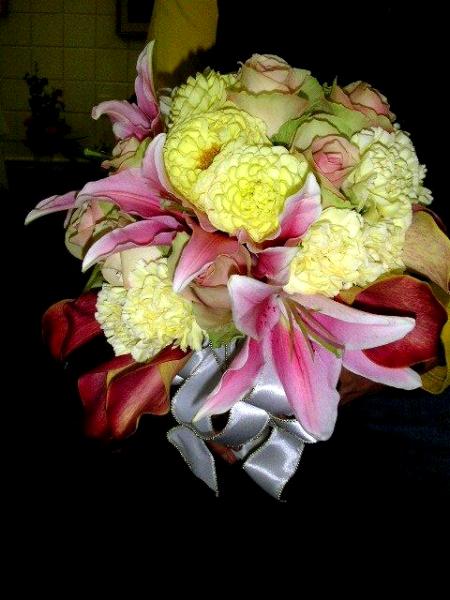 Click on the photos to enlarge their size. All these bouquets were designed and made by our students during wedding flower lessons in the classroom of
California Flower Art Academy
. Arrangements were made under the instruction of our floral arrangement teacher. After completing these bouquets, we took pictures of bouquets that were held by our students in the classroom. Since the photos were taken during lessons by our staff (or other student), preparation of clothing and the background were not professionally made comparing with other schools' or studios' photographs. However we hope you can feel real real classroom atmosphere during lessons.
By the present time, we find that the term of "wedding flower" reminds most people of a bridal bouquet. Bouquet always comes first as an image of wedding flowers. Actually many florists and also floral design instructors teach how to make bridal bouquets for wedding flower lessons. Floral shops have no difficulties of selling bouquets compared with a larger size of wedding flowers such as head table arrangements etc.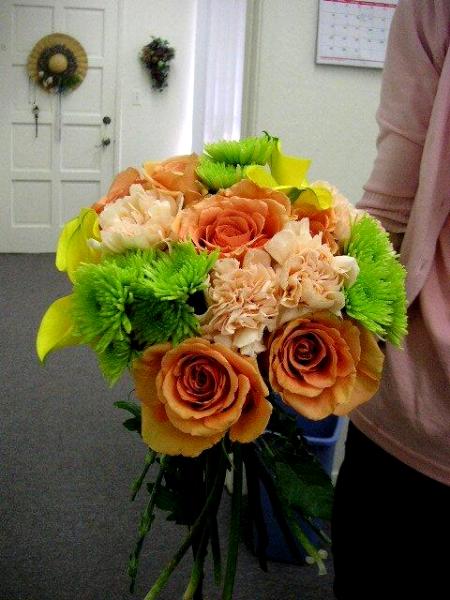 How about other wearable wedding flowers such as pomanders and corsages ? Compared with bouquets, they are not popular items that can be sold at floral shops seemingly because pomanders are not so well known among people who are not familiar with wedding flowers and not so suitable for table decorations. As for corsage, this is quite popular as a wearable floral decoration. Again however it does not fit with a design displayed at home. Bouquets are mainly used as a hand-tied flower. However it can be well used as a decoration placed in a vase on the table.
Compared with ordinary floral arrangements such as centerpieces, making bouquets is a time consuming project. Unless a student is well experienced in flower arrangements, it usually takes almost two hours to make one piece of bouquet using fresh flowers. However all students are quite happy and feel like their efforts are paid off when they successfully complete a bouquet. As bouquet is a quite popular and important wedding decoration, some of curriculum of our standard flower arranging courses include lessons of bouquets.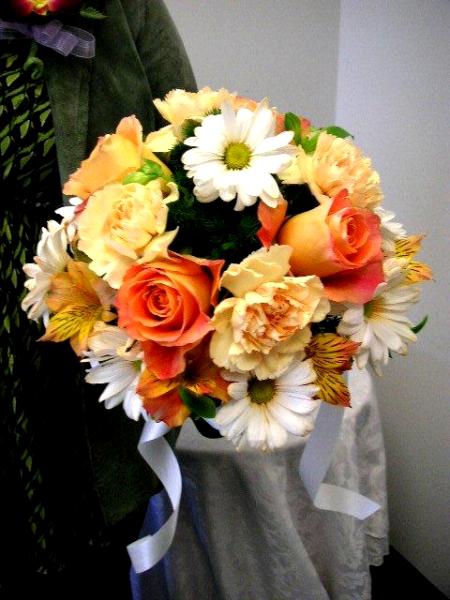 However some students want to learn only bouquets and they do not have a keen interest in learning other wedding flowers. On top of that the lesson fees for lengthy courses are little bit expensive. In order to help students who would like to focus on learning bouquets and minimize a lesson fee,
California Flower Art Academy
offers
Bouquet Making Course
. Unlike other wedding flower courses, anybody can sign up for this course regardless of their previous education and experience in floral arrangement. By joining this course out students can learn under mentioned 3 types of bouquets:
If you would like to learn how to make bouquets, we highly recommend you to join this course. Students usually learn one design of bouquet a day. Therefore they need to come to the classroom 3 times to complete this course UNLESS there is special agreement between our instructor and student.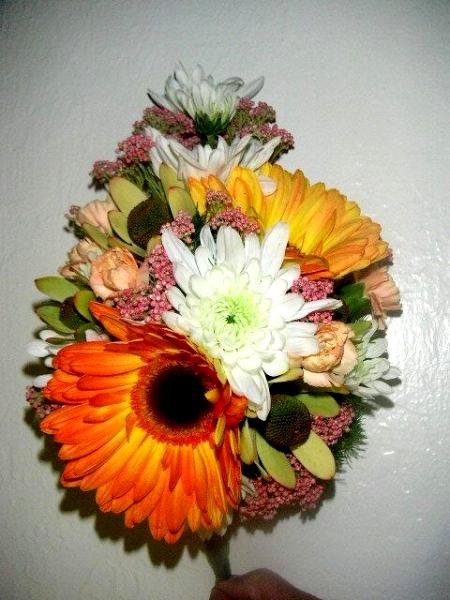 Our hands on training of ONE ON ONE instructions (semi private lesson) will greatly help you quickly and easily earn practical skills. Besides bouquet making course,
California Flower Art Academy
offers various wedding related programs as introduced below:
For those who cannot attend weekday and daytime lessons, we offer
Weekend Class
and
Evening Lesson
as well. For more information, please do not hesitate to contact info@california-academy.com
Here is YouTube video introducing How to Make a Wedding Bouquet - DIY Wedding


Be the first to post a comment.

California Flower Art Academy
has been engaged in teaching a wide range of floral designs in the San Francisco Bay Area and Silicon Valley (San Jose) since 1990 as a floral school certified by Flower Decorators Association (Tokyo Japan). We offer hands on training of ONE ON ONE instructions (semi private lessons) which greatly help entry level students easily and quickly earn a decent level of skills. If you are looking for a reliable floral arrangement instructors or floral design school offering quality classes with cheap, inexpensive and affordable tuition in the San Francisco Bay Area (San Mateo County) or Silicon Valley (San Jose, Santa Clara County), why not join
California Flower Art Academy
? We help you make a difference in floral art.
RSS
|