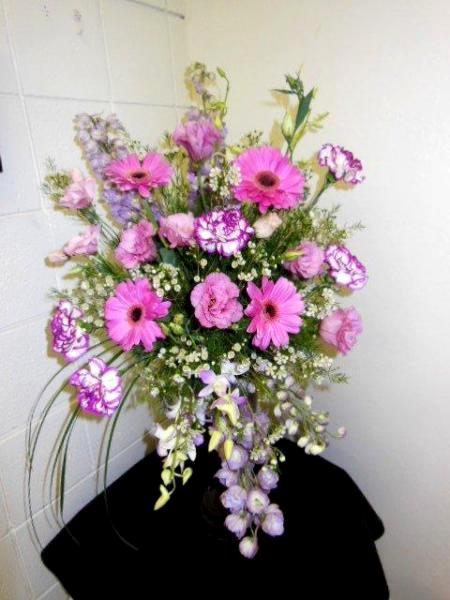 These are table arrangements made by our student under the instruction of our flower arrangement instructor during lessons at the classroom of
California Flower Art Academy
. Through a semi private lesson by our instructor PLUS review and practice by our students, it is possible for you to make this kind of flower arrangement. Suppose you successfully have your own floral shop after earning flower arranging skills at a school, how are your going to increase number of customers ? When a certain period of time has passed, you MIGHT start to think about providing flower arranging services to a decent size of customers in addition to individual consumers. The reason for you to have this kind of idea MAY be as follows: In order to remarkably enhance the sales amount PLUS profit, it is better to have corporate customers who usually place a big amount of order. It is not so easy to establish a customer base with a decent size of corporations. In this case, customers mean hotels, restaurants, shopping malls and wedding halls.
One of the possible ways to penetrate a new customer is to offer a very attractive price, the level of which does not allow reasonable amount of profit.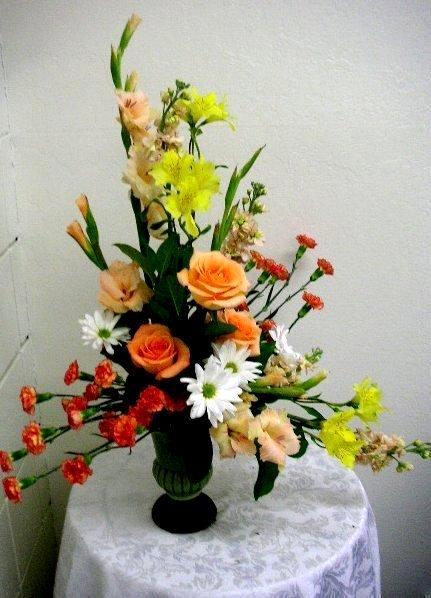 Sometimes even with zero profit or with deficit, some vendors try to open a new account with an important potential customer. Why ? Once a vendor penetrates a new famous customer, such vendor can use the name of this famous customer when knocking on the door of other potential customers who are also corporations. If a new customer is explained that this vendor is already doing business with a certain famous corporation. new potential customers MAY feel comfortable and they feel that this vendor is reliable. Namely customer reference is often very important as a sales tool. No matter what kind of business it is, many business people depend on this way. Namely you sometimes WIN BY LOSING or LOSE A DIME AND WIN A DOLLAR. Although our school does not offer any program for business strategy, we can help you earn practical skills of flower designs. For people who have no experience in floral art, we recommend following programs:
For more information, please contact info@california-academy.com


Be the first to post a comment.

California Flower Art Academy
has been engaged in teaching a wide range of floral designs in the San Francisco Bay Area and Silicon Valley (San Jose) since 1990 as a floral school certified by Flower Decorators Association (Tokyo Japan). We offer hands on training of ONE ON ONE instructions (semi private lessons) which greatly help entry level students easily and quickly earn a decent level of skills. If you are looking for a reliable floral arrangement instructors or floral design school offering quality classes with cheap, inexpensive and affordable tuition in the San Francisco Bay Area (San Mateo County) or Silicon Valley (San Jose, Santa Clara County), why not join
California Flower Art Academy
? We help you make a difference in floral art.
RSS
|