Click on the photos to enlarge them. These are floral arrangements displayed as a wedding head table decoration and they were made during real lessons at California Flower Art Academy's classroom and also at wedding halls. These designs were made by our students under the direction of our floral arrangement instructors and also by our instructor and graduate. If you really like flowers and floral arrangements, you MIGHT have a dream relating to floral designs. This COULD be regarding your hobby or MAY be relating to your job. Judging from the information we got from our prospective students who approached our school, one of the most popular dreams is running a floral shop where you can work as a owner and also floral designer.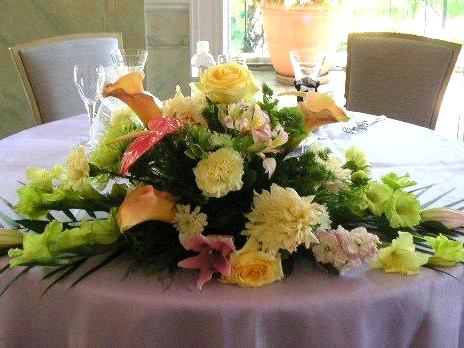 Of course after the business expands, you MAY concentrate on managing the business only and leaving floral design job to your staff. Sometimes a parent of prospective student contacted us saying "I would like to provide my son with floral arrangement training so that he can be a floral artist and the owner of floral shop.Quite frankly speaking
California Flower Art Academy
specializes in teaching flower arrangements and we are not engaged in teaching shop management. If a student wants to learn floral shop management in addition to floral designs at our school, we cannot but introduce some other school that offers shop management as well although we can seldom find such school.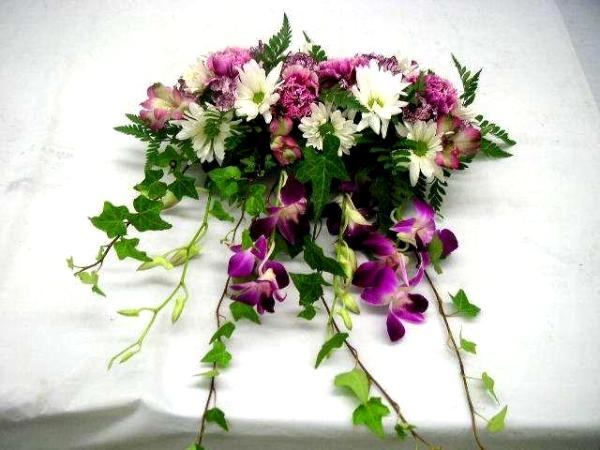 We can well take care of the lesson of floral arrangements so that we can train our students to be a floral artist. This can be done for sure judging from our long term experience since 1990. When it comes to shop management, they can learn from OJT (on the job training) by working for a floral shop as a volunteer or intern. Or it is possible to get a job as a floral designer after learning flower arrangement at our school. Then he/she can get a job at a florist by getting paid. If you would like to learn shop management at a school, we MIGHT recommend following college: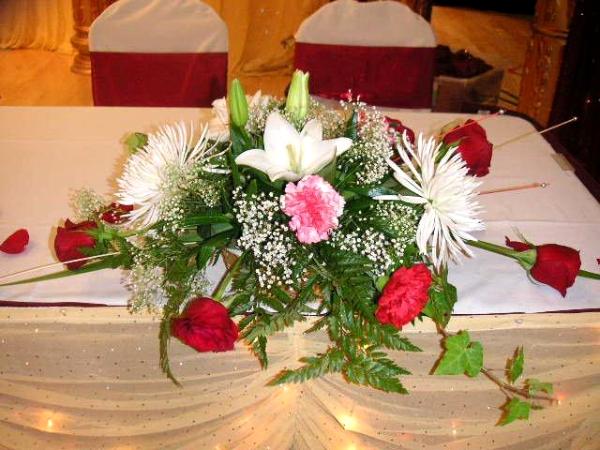 Or alternative way is to contact
College Flowers
that offers various information about running floral shop as well as floral designs as a business.Again getting back to learning floral designs at California Flower Art Academy, we can train any level of students from beginner to professionals. Our long term experience for the past 25 years provides us with lots of know how and secret for how to train our students so that they can be active floral designers. Actually many graduates are actively engaged in flower arranging activities for enjoying hobby or doing floral business. Our
Wide Range of Programs
can greatly help our students make a best choice of their favorite course depending on their budget and the goal for learning flower arrangements.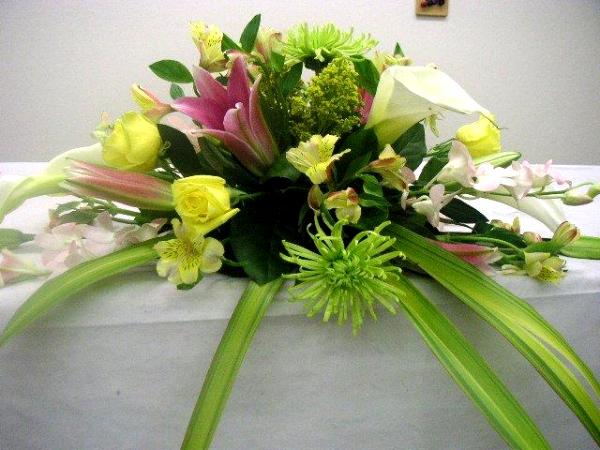 You can learn a variety of flower arrangements at our school from conventional design to contemporary one, easy to high end designs, wedding to funeral decorations AND European arrangement to Japanese traditional Ikebana arts. If you really want to earn practical flower arranging skills, why not join
California Flower Art Academy
where you can learn by way of hands on training of ONE ON ONE instructions by our experienced flower arranging instructors. For more information, feel free to contact info@california-academy.com
Here is YouTube video introducing How to Make Round Arrangement. The source of this video is
Golden West College
. The demonstrator is Gail Call, AIFD


Be the first to post a comment.

California Flower Art Academy
has been engaged in teaching a wide range of floral designs in the San Francisco Bay Area and Silicon Valley (San Jose) since 1990 as a floral school certified by Flower Decorators Association (Tokyo Japan). We offer hands on training of ONE ON ONE instructions (semi private lessons) which greatly help entry level students easily and quickly earn a decent level of skills. If you are looking for a reliable floral arrangement instructors or floral design school offering quality classes with cheap, inexpensive and affordable tuition in the San Francisco Bay Area (San Mateo County) or Silicon Valley (San Jose, Santa Clara County), why not join
California Flower Art Academy
? We help you make a difference in floral art.
RSS
|