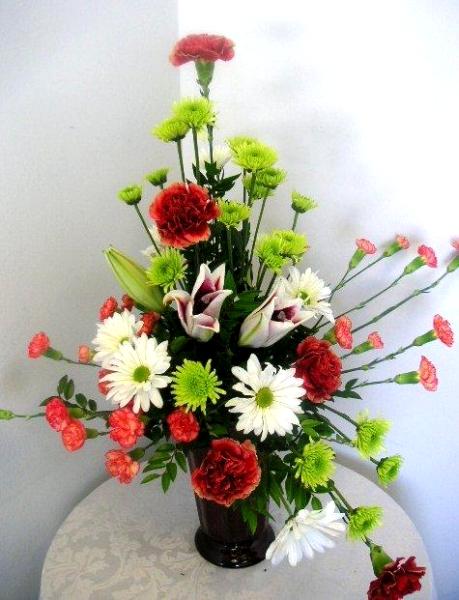 These floral designs were made by
California Flower Art Academy
at our classroom. From person to person, the purpose of learning flower arranging is different. Some people want to learn it for the purpose of enjoying strictly as a hobby. In this case, they enjoy learning, designing, making, displaying and viewing it by themselves. All is done for enjoying themselves with floral designs. Some people are learning for earning a professional floral arranging skills with which they would like to do floral business such as running a floral shop, working for a florist as a floral designer or offering floral decorating services for weddings or some other events. Some people's goal is to offer their own flower arranging lessons as a class owner.
So many people, so many purposes for learning floral designs. Among such people we find some limited number of students are learning in order to help other people as a volunteer with flower arranging knowledge and skills. Concretely speaking they would like to make the best use of their skill to offer floral arrangements for the church they belong to as a volunteer or teaching floral designs to retired people at a retirement home.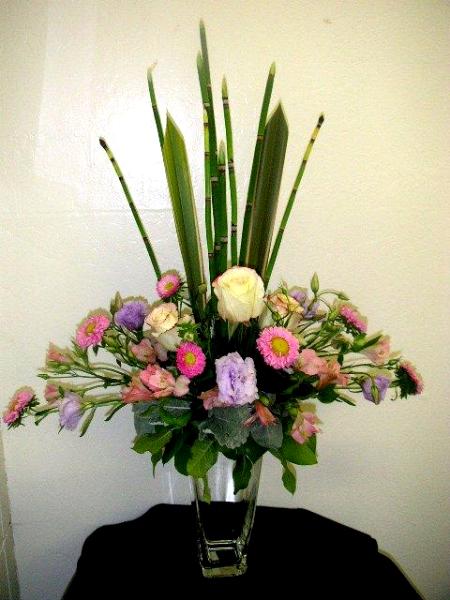 In this case, the purpose of learning floral designs is neither for doing business nor for making money. They find helping other people makes life worth living. For whatever kind of purpose you learn floral arrangements, we are more than happy to help you earn practical skills so that you can work as a volunteer floral artist. Even working as a volunteer, it is necessary to acquire minimal required skill. We would like to recommend them to take lessons by joining
Fresh Flower Arrangement Elementary Course
where they can earn basic floral designing skills.
After completing this course, if they believe they have enough skill to do their job, it is no longer necessary to learn any more. If they feel motivate to earn even higher level of skill, they can come back to us whenever they like. Once they earn credits of this Elementary Course, they qualify to sign up for a higher level of course. There are tons of programs we offer. After earning basic skills, they MAY find what they would like to more to do a better job. If you have any questions, please contact info@california-academy.com
Here is YouTube video introducing How to Create a Large Floral Winter Vase Arrangement. The source of this video is
Sarah Raven's
. For more information about Sara Raven's,
VISIT THIS SITE
.


Be the first to post a comment.

California Flower Art Academy
has been engaged in teaching a wide range of floral designs in the San Francisco Bay Area and Silicon Valley (San Jose) since 1990 as a floral school certified by Flower Decorators Association (Tokyo Japan). We offer hands on training of ONE ON ONE instructions (semi private lessons) which greatly help entry level students easily and quickly earn a decent level of skills. If you are looking for a reliable floral arrangement instructors or floral design school offering quality classes with cheap, inexpensive and affordable tuition in the San Francisco Bay Area (San Mateo County) or Silicon Valley (San Jose, Santa Clara County), why not join
California Flower Art Academy
? We help you make a difference in floral art.
RSS
|