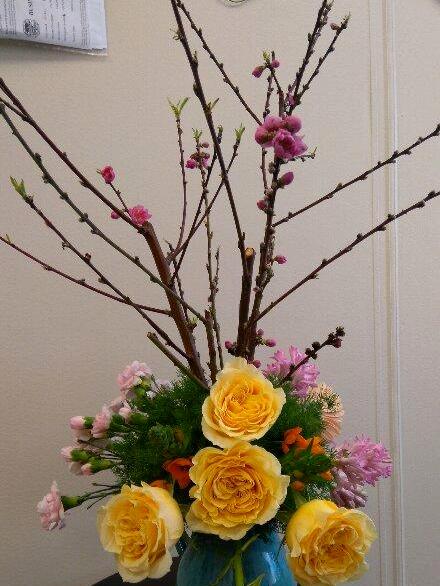 These flower arrangements were designed and made by our students under the directions of our instructor during real lessons in the classroom of
California Flower Art Academy
. The upper arrangement uses branches of blooming trees (peach tree) which match with yellow focal flowers quite well. The lower arrangement is what is called L shaped design. Needless to say , the shape of this arrangement is just like alphabetical letter "L". Both arrangements can be displayed on the console table in the foyer (or entrance hall) to welcome guests into your house.
Students at
California Flower Art Academy
learn not only symmetrical arrangements but also asymmetrical ones at a quite early stage soon after learning fresh flower arranging. Namely curriculum of Fresh Flower Arrangement Elementary Course includes lessons for learning "L" shaped and "S" shaped designs. They can also learn Diamond Arrangement, Oval Arrangement as well as wearable designs such as bouquet and corsage in addition to all round arrangement. Total 12 different designs are covered in this elementary course. Some prospective students express a concern that the level of this course is too elementary or too basic.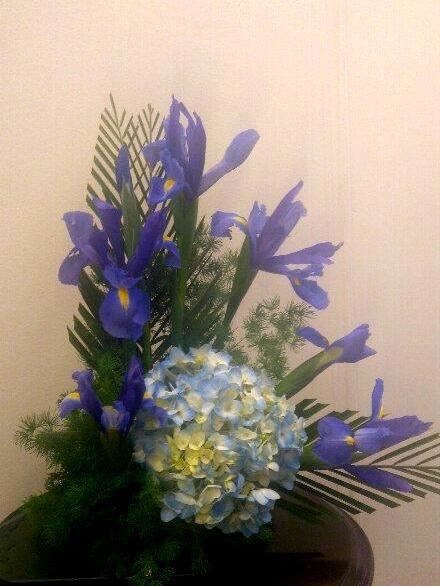 You may rest assured that despite of the name of elementary course you will never feel bored with designs and you MAY feel it is of a little bit higher level than you expect. After starting to learn floral arrangements, if you fall in love with this fantastic art and would like to earn a higher level of skills, we can help until you successfully earn advanced flower arranging know-how and techniques.
California Flower Art Academy
offers a
Wide Range of Programs
from which you can make a choice of your favorite one according to your requirement. If you have no experience, we recommend following program(s):
Those who cannot attend weekday and daytime lessons are recommended to join
Weekend Class
and/or
Evening Lesson
. For more information, please feel free to contact info@california-academy.com
Here is YouTube video introducing Wedding Flower Trends 2013 - Heirloom. Source of this video is
OASISFloral
. Demonstrator is Loann Burke, OASIS Floral Products Design Director, AIFD, PFCI


Be the first to post a comment.

California Flower Art Academy
has been engaged in teaching a wide range of floral designs in the San Francisco Bay Area and Silicon Valley (San Jose) since 1990 as a floral school certified by Flower Decorators Association (Tokyo Japan). We offer hands on training of ONE ON ONE instructions (semi private lessons) which greatly help entry level students easily and quickly earn a decent level of skills. If you are looking for a reliable floral arrangement instructors or floral design school offering quality classes with cheap, inexpensive and affordable tuition in the San Francisco Bay Area (San Mateo County) or Silicon Valley (San Jose, Santa Clara County), why not join
California Flower Art Academy
? We help you make a difference in floral art.
RSS
|