Right photo shows floral design featuring white orchids. The lower side photo shows another design of which focal flower is white hydrangeas. Both are table arrangements using fresh flowers and good for being displayed during a Christmas season. The source of these photos is Better Homes and Gardens that offers a variety of Christmas floral decorations. Orchids remind us of the flower blooming from winter to spring. However depending on the kind of orchid, we can get it even in December. When it comes to hydrangeas, it reminds us of the flower blooming in the summer. However we can get it even in December. Nowadays thanks to Greenhouse System most flowers are available in the market all year long even if it is out of season.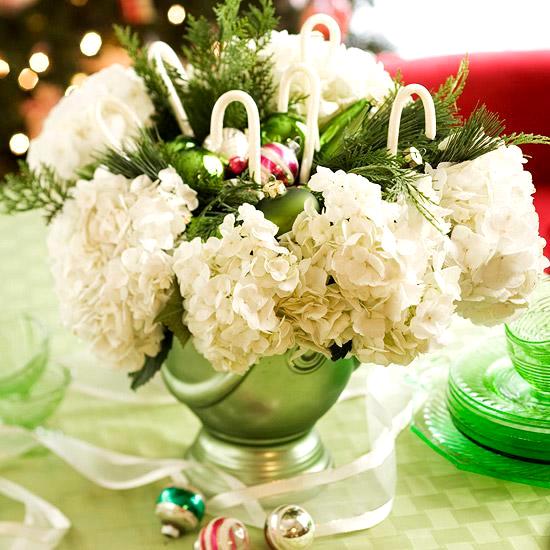 Not only flowers but also many kinds of fruits and vegetables are sold in the market throughout the year even if they are out of season thanks to greenhouse cultivation system. Therefore you may rest assured that you can use most flowers all year long if you do not mind paying a little bit higher price than usual. If you have a reasonable flower arranging skill, you can make the best use of your skill and talent during a Christmas season for making centerpiece decoration like the ones shown in this page. For those who would like to earn practical skills of floral arranging,
California Flower Art Academy
offers a
Wide Range of Programs
. Our students can make a best choice of their favorite course depending on their taste, budget and purpose of learning floral designs.


Be the first to post a comment.

California Flower Art Academy
has been engaged in teaching a wide range of floral designs in the San Francisco Bay Area and Silicon Valley (San Jose) since 1990 as a floral school certified by Flower Decorators Association (Tokyo Japan). We offer hands on training of ONE ON ONE instructions (semi private lessons) which greatly help entry level students easily and quickly earn a decent level of skills. If you are looking for a reliable floral arrangement instructors or floral design school offering quality classes with cheap, inexpensive and affordable tuition in the San Francisco Bay Area (San Mateo County) or Silicon Valley (San Jose, Santa Clara County), why not join
California Flower Art Academy
? We help you make a difference in floral art.
RSS
|