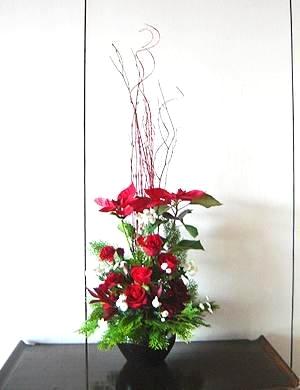 The first photo shows Japanese Ikebana arrangement and the 2nd one is basket floral arrangement of European design. Ikebana arrangement was made by one of our graduates (Moon Soon Lee) and basket arrangement was made by our student under the directions of our instructor during a lesson in the classroom of
California Flower Art Academy
. 3rd photo shows
Hogarth arrangement
also made by our student in our classroom.
In order for you to make a right choice, we would like to let you know followings: If you are interested in learning Japanese culture and want to learn Japanese traditional floral art, learning Ikebana is good. However the skill of making Ikebana arrangement is not suitable for you to do floral business in America. Therefore Ikebana should not be recommended if you have even a little bit interest in using your skill for typical floral business. This is recommended for people who learn floral art strictly for hobby. Then how about European style arrangement ? Regardless of your purpose of learning floral art, for hobby or for business, European arrangement works quite well.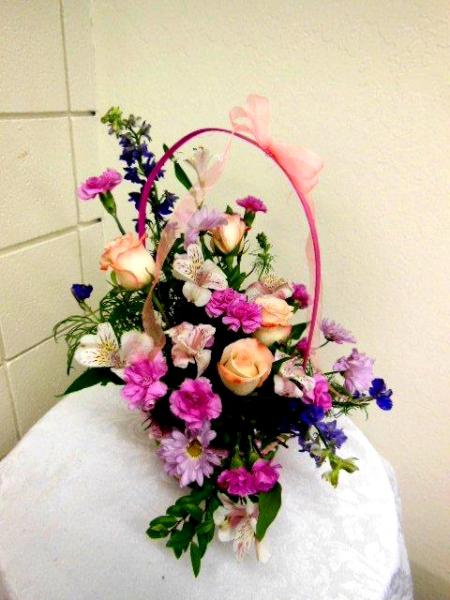 Due to above reason, those whose main purpose of learning flower arrangement is to do business had better learn European designs. After earning a decent skill of European designs, you MAY feel like making more creative or unique designs, you should learn Ikebana in addition to European arrangement because blending both skills (European designs and Ikebana) can create beautiful and unique designs like no other. California Flower Art Academy offers a Wide Range of Programs from European designs to Japanese Ikebana, wedding to funeral decorations, home interior to corporate arrangements AND beginner to professional levels.
If you are looking for a reliable floral school offering quality lessons, why not join California Flower Art Academy ? For those with no previous experiences in floral art, we recommend under mentioned short seminar programs: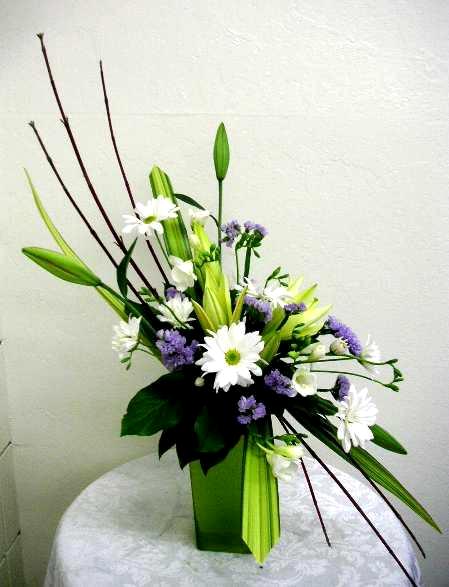 If you want to learn a little bit more about basics of floral art, how about signing up for the following courses ?
REMARKS: We do not offer Ikebana Arrangement Instructor Course. None of our Ikebana courses is designed for training students to become Ikebana instructor.
Besides above mentioned programs,
California Flower Art Academy
offers a
Wide Range of Programs
to satisfy various requirements from our students. For people who cannot attend weekday and daytime lessons, we offer Weekend Class and Evening Lesson every week. For more information, please contact info@california-academy.com
Here is YouTube video introducing Japanese Flower Arrangement. Source of this video is
The Ikebana Shop
. This video features Miyako Ballesteros, ikebana teacher, and her student, Jean Henshall. Audio clip produced by Emily Kitagawa, a student of the School of Journalism at
the University of King's College
, Halifax NS


Be the first to post a comment.

California Flower Art Academy
has been engaged in teaching a wide range of floral designs in the San Francisco Bay Area and Silicon Valley (San Jose) since 1990 as a floral school certified by Flower Decorators Association (Tokyo Japan). We offer hands on training of ONE ON ONE instructions (semi private lessons) which greatly help entry level students easily and quickly earn a decent level of skills. If you are looking for a reliable floral arrangement instructors or floral design school offering quality classes with cheap, inexpensive and affordable tuition in the San Francisco Bay Area (San Mateo County) or Silicon Valley (San Jose, Santa Clara County), why not join
California Flower Art Academy
? We help you make a difference in floral art.
RSS
|