These flower arrangements were designed and made by our students under the directions of our instructor during real lessons in the classroom of
California Flower Art Academy
. Since this is not a show room introducing only perfect and extremely beautiful designs, we introduce most of arrangements made by our students, graduates and instructors from fantastic ones to so so arrangements. Among these arrangements there are some designs that need improvements. However we are sure introducing our students works MAY give you some kind of real idea about what is going on at our school. Not only on design itself but also on the way of taking photos, many of them MAY need improvements only because we take photos during busy lessons and we do not have any good photo studio PLUS all persons who take pictures are our students and instructors.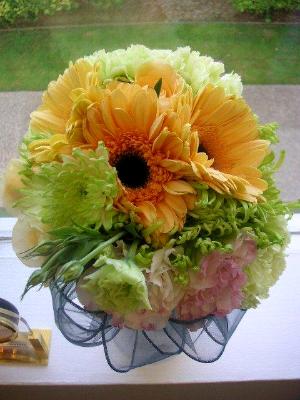 Talking about the title of this page "YOU CAN LEARN ANY KIND OF DESIGNS AT OUR SCHOOL", what we mean is our school offers a very Wide Range of Programs that do not stick to a certain limited area such as wedding flowers or only home flower decoration or Western Style Floral Arrangement. California Flower Art Academy teaches really a variety of floral designs from European arrangement to Japanese Ikebana, easy ones to high end arrangements, interior home designs to corporate arrangements, wedding to funeral decorations AND beginner to professional levels. No matter what kind of level of skill you now have, no matter whether you already learned floral designs, no matter which style you want to learn western style or Japanese style AND home decor or business arrangement, we can teach so that you can be an active floral designer.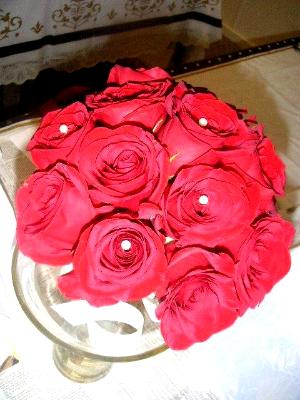 Some schools say they teach wedding flower arrangements. However what they teach is mainly bouquets and simple table arrangements. They do not teach pomanders, arch decorations, wreath arrangements, aisle decorations, topiary, garland, boutonniere, flower decorated cake, so on and so forth. There are various kinds of wedding flowers. On top of that we teach funeral floral decorations as well. The majority of our students would like to learn for hobby, which means many of them want to earn skills of making home interior floral decoration. Therefore we, of course, teach various types of interior arrangements that can be displayed at various locations of homes. In order to teach such wide range of arrangements, school and instructors must have ample experiences not only for instructions but also for actual arrangement in various events.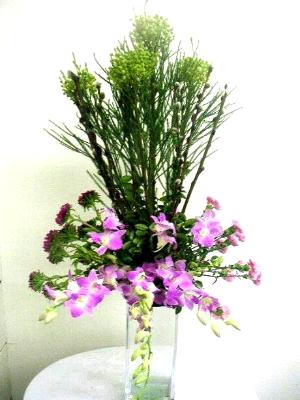 Our staff has a lot of experiences with which they have been accumulating various know-how and secrets that greatly help us implement effective instructions to our students. In addition to classroom arrangements, we offer procurement of flower and plant materials at a flower market and also from time to time we can get advanced and instructor course students actual field experience of making real arrangements at a wedding etc to the extent the situation surrounding our school allows. Students who are well trained at our school and actually engaged in floral design business are pretty much satisfied with what they learned at our school. If you seriously want to earn a decent flower arranging skill, we are more than happy to help by way of hands on training of ONE ON ONE instructions (semi private lesson).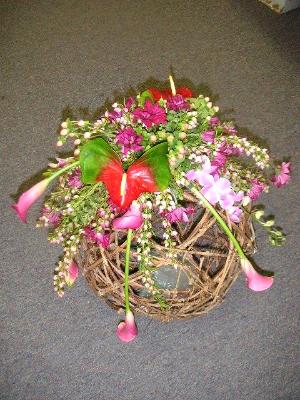 California Flower Art Academy
offers a
Wide Range of Programs
from which you can choose your favorite course according to your budget, taste and goal for learning flower arrangements. For those who have no experiences at all, we recommend under mentioned programs:
If you are too busy to attend weekday and daytime lessons, we recommend
Weekend Class
and
Evening Lesson
. For more information, please contact info@california-academy.com


Be the first to post a comment.

California Flower Art Academy
has been engaged in teaching a wide range of floral designs in the San Francisco Bay Area and Silicon Valley (San Jose) since 1990 as a floral school certified by Flower Decorators Association (Tokyo Japan). We offer hands on training of ONE ON ONE instructions (semi private lessons) which greatly help entry level students easily and quickly earn a decent level of skills. If you are looking for a reliable floral arrangement instructors or floral design school offering quality classes with cheap, inexpensive and affordable tuition in the San Francisco Bay Area (San Mateo County) or Silicon Valley (San Jose, Santa Clara County), why not join
California Flower Art Academy
? We help you make a difference in floral art.
RSS
|