The first arrangement is a gift wrapping floral design. A gift box is decorated with fresh flowers. The second one is basket flower arrangement that can be used at weddings and also as a floral gift. The third one is corsage that is not yet worn. All these photos show floral arrangements made by our students under the direction of our instructor during real lessons of
California Flower Art Academy
. The vast majority of our students have never learned or experienced flower arranging lessons before joining our school.
Nevertheless, most students can successfully earn reasonable level of flower arranging skills as far as they diligently follow our instructor's advice and practice at home.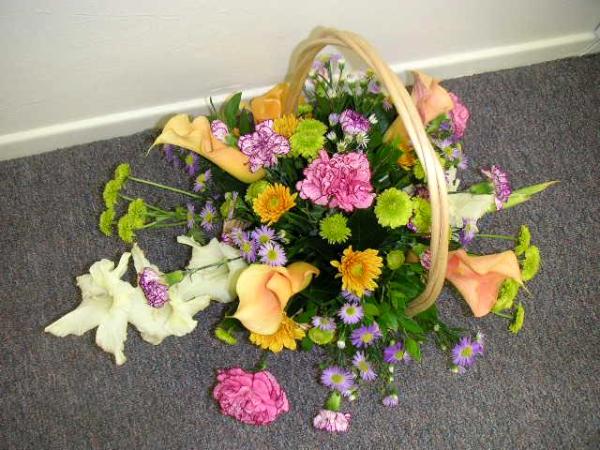 While most people who learned flower arrangements at our school enjoy floral designs as a hobby such as making home decoration with floral arranging, some of them are actively engaged in floral business by way of opening their own floral shop, offering event floral decorating services or teaching floral arrangements by offering their own classes.
If you have earned flower arranging skills and engage in doing floral designs in your daily life, as a hobby or business, why not make your floral design library showing your design portfolio in a way of making Floral Design Library.
There are tons of websites that can be used for free for you to upload your photos. This is a good way to introduce your designs you make from time to time. If you have regular customers or friends who love your floral designs, you can make the best use of such tools to appeal your talent and skills. We offer a
Wide Range of Programs
for beginners to professionals. Those who have no experience are recommended to join following programs:
For more information, please contact info@california-academy.com


Be the first to post a comment.

California Flower Art Academy
has been engaged in teaching a wide range of floral designs in the San Francisco Bay Area and Silicon Valley (San Jose) since 1990 as a floral school certified by Flower Decorators Association (Tokyo Japan). We offer hands on training of ONE ON ONE instructions (semi private lessons) which greatly help entry level students easily and quickly earn a decent level of skills. If you are looking for a reliable floral arrangement instructors or floral design school offering quality classes with cheap, inexpensive and affordable tuition in the San Francisco Bay Area (San Mateo County) or Silicon Valley (San Jose, Santa Clara County), why not join
California Flower Art Academy
? We help you make a difference in floral art.
RSS
|