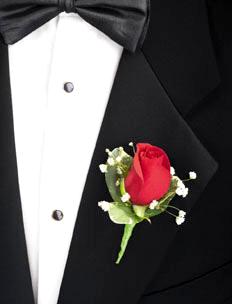 The first photo shows a boutonniere worn by la bridegroom dressed in tuxedo. Source of this photo is Wikipedia. The second photo shows a corsage worn pinned onto clothing. This is a corsage designed and made by our student under the directions of our instructor during a real lesson in the classroom of
California Flower Art Academy
. This picture was taken in the classroom showing the corsage pinned onto a student's regular classroom clothing. As seen from above explanation, boutonniere is a male version of corsage. According to Wikipedia boutonniere is explained as follows:
A boutonniere (French) is a floral decoration worn by men, typically a single flower or bud. Boutonniere is the French word for "buttonhole". While worn frequently in the past, boutonnières are now usually reserved for special occasions for which formal wear is standard, such as at proms, homecomings, funerals and weddings. Traditionally a boutonniere was worn pushed through the lapel buttonhole (on the left, the same side as a pocket handkerchief) and the stem is held in place with a loop at the back of the lapel.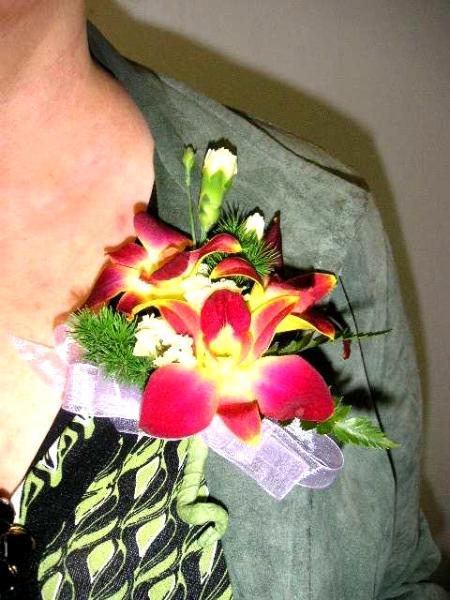 Currently boutonnieres are usually reserved for special occasions for which formal wear is standard. Therefore it is often used at weddings, proms, homecomings and funerals. Especially at weddings and proms, it is quite popular together with regular corsages and writ-corsages worn by women. For those who would like to learn how to make corsage, wrist-band and boutonierre, California Flower Art Academy offers a seminar called
Corsage Making Program
. By joining this short seminar, you can learn under mentioned items:
Boutonniere
(pushed through lapel)........for men..........2 pieces
Besides Corsage Making Program, we offer wedding flower programs as follows:
For more information, please contact info@california-academy.com
Here is YouTube video introducing Wedding Flowers & Floral Arrangements: How to Make Corsages for the Mothers of the Bride & Groom. Source of this video is
ehow
. Demonstrator is Christine Holanda, florist and the owner of Lily of the Valley Floral Design & Gift Shop in La Quinta, Calif. Filmmaker: Gina Miller-Britton


Be the first to post a comment.

California Flower Art Academy
has been engaged in teaching a wide range of floral designs in the San Francisco Bay Area and Silicon Valley (San Jose) since 1990 as a floral school certified by Flower Decorators Association (Tokyo Japan). We offer hands on training of ONE ON ONE instructions (semi private lessons) which greatly help entry level students easily and quickly earn a decent level of skills. If you are looking for a reliable floral arrangement instructors or floral design school offering quality classes with cheap, inexpensive and affordable tuition in the San Francisco Bay Area (San Mateo County) or Silicon Valley (San Jose, Santa Clara County), why not join
California Flower Art Academy
? We help you make a difference in floral art.
RSS
|