Virginia R Eggert Studios
Artist directory
:: Virginia R Eggert Studios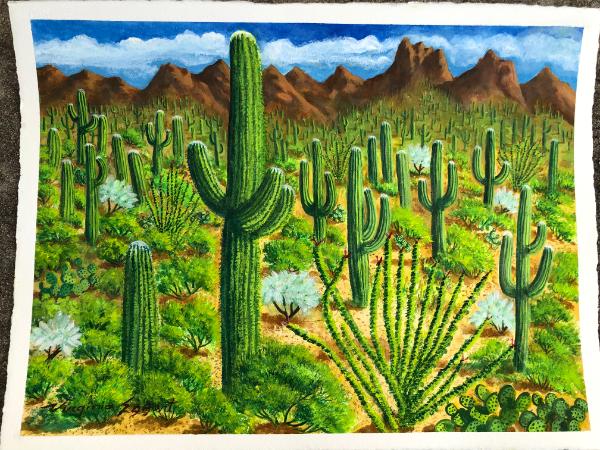 Artwork
About
I have been doing artwork since I was a young child. My parents, teachers and friends called me "talented". I have always been a very visual person, inspired to paint the world around me and finding color and beauty in everything. . I earned a Bachelors of Art Degree in Visual Arts from the University of Montana in Missoula and a Masters Degree in Art Education from the University of Arizona in Tucson. Later, I got involved in drawing storyboards for television. Went on to earn a Ph.D. in Secondary Education after writing a dissertation on television production. Since college, I have been an art and television teacher in Florida, Arizona and Texas. Now retired, I am painting full time. I am also a member of a cooperative art gallery in...
Blog
Prickly Pear, Saguaros, Palo Verde and Catalina Mountains
Acrylic on 140# Arches watercolor paper - 18 x 24" painted at the end of June 2022 - based on a view from my backyard .
Three Saguaros
Acrylic on 140# Arches watercolor paper 12 x 16" Dec 2021
Catalina Mountains
Acrylic on 300# arches watercolor paper - 15x22 - Feb. 2021
Desert View
Acrylic on 300# Arches watercolor paper - 15x22 - Feb 2021
Arizona Desert Scene
12x16 Acrylic on watercolor paper . Based on a view from my back yard. The first painting I did since moving to Arizona in July of 2020.