Pat Dispenziere watercolor artist
Artist directory
:: Pat Dispenziere watercolor artist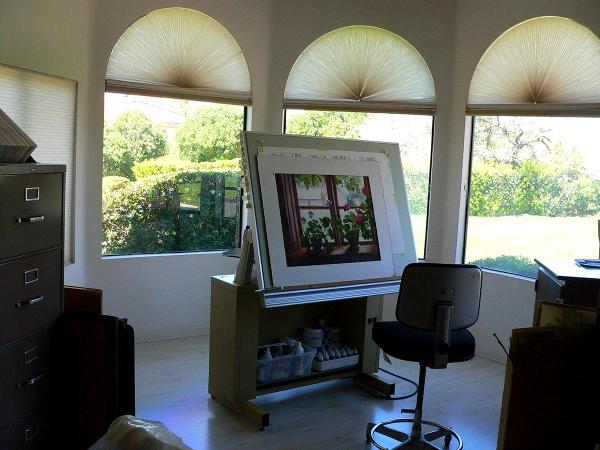 About
It seems like I have been an artist forever, starting as a small child drawing on any scrap of paper I could find. Luckily my parents encouraged me with children's art classes and an art education opportunity at Ohio State University where I earned a Bachelor of Fine Arts and Bachelor of Science degrees in Art Education. I then taught art in public schools for several years. Upon moving to California 40 years ago I concentrated my passion into a different direction. I started painting plein air, did many commissions, took up printmaking, and started to compete in local and national watercolor juried watercolor shows. As a result of these juried competitions, I have become a Signature Member in National Watercolor Society, Watercolor West, San Diego...
Blog
"A View Inside"
My transparent watercolor "A View Inside" was juried into the August San Diego Watercolor Society Member show by Stan Kurth.It will be on view in the San Diego Watercolor Society Gallery in Liberty Station the month of August.
"The Play of Light XVI"
My transparent watercolor "The Play of Light XVI" was juried into and won 1st award in the watermedia catagory at the 67th Open Juried Fine Arts Show at the Carlsbad Oceanside Art League Gallery in Carlsbad,CA. The show opened August 1st and will close Sept. 2,2018.Reception and Awards ceremony was Aug 5, from 3-5pm.
You've Got Mail
My watercolor painting "You've Got Mail" has been juried by Lauren McCracken into the Missouri Watercolor Society 2018 International Exhibition at the Quingdao Laoshan Museum in Quingdao, China June 19 through July 5,2018,This painting won an Honorable Mention in this show.
Beyond The Blue Doors
My transparent watercolor "Beyond the Blue Doors" has won a Third Award in the Watermedia catagory at the Carlsbad Oceanside Art League Member's show in Carlsbad ,CA.
The Play of Light XV
My transparent watercolor "The Play of Light XV" has been juried into the 2018 Transparent Watercolor Society of America 42nd Annual Exhibition at the Kenosha Public Museum in Kenosha, WI.