Sasanka Ghosh
Artist directory
:: Sasanka Ghosh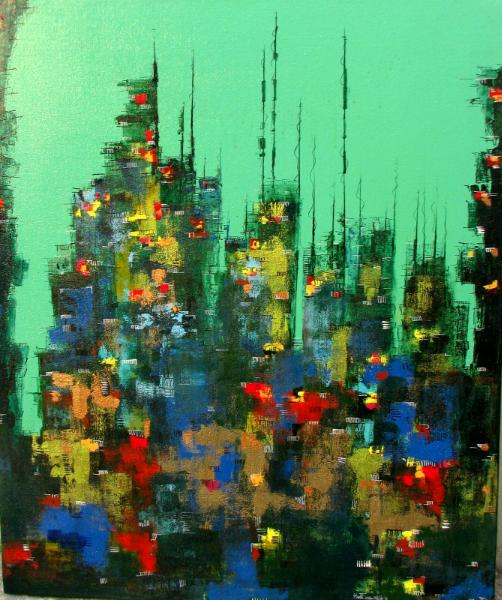 About
What enchants a viewer about Sasanka Ghosh's works is the surge of passionate strokes that stand vertically slash horizontally, weaving a lovely brightness of activity with silhouettes of skyline on top and on the lower planes the edge of dark deep abysmal sea that spreads like a band of solitude in contrast to the middle regions of his canvasses which also convey a sense of TIMELESSNESS and SPACE. The palette of his hues and variable tones ensures the merging of both with his energetic zestful strokes. These Cityscapes along harbor as weaved by Sasanka trigger a dynamic process and compel us to look at reality as an Impressionistic illusion and dig deeper in his abstraction to translate what he has experienced over a period of years. It is almost as if...
Blog
Bandhan - Eminent Artists' Painting & Sculpture Exhibition 2012
Two of my artwork has been selected for the exhibition "Bandhan" organised by Kolkata-Indian Creative Art &Culture Academy at Nandalal Bose Gallery at Rabindranath Tagore Centre (ICCR), 9A, Ho-Chi-Minh Sarani, Kolata - 700 016 From 4th April to 10th April 2012 at 11 am to 7pm. Shri Sunil Das, Eminent Artist, National Award Recipient, Shiromoni, Taj Ratna, will inaugurate our exhibition on 4th April at 4 pm. Mr. Harilal Shahu, Ex.
Upcoming Exhibition at Bangalore
May 23rd to 29th Karnataka Chitrakala Parisath, Gallery IV, Art Complex, Kumara Krupa Road, Bangalore, Pin 560011 Time: 10am to 7pm