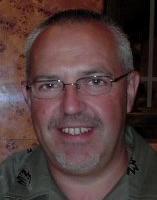 On leaving school in 1976 I attended Art College in Coventry, but after 12 months with no money, I sought a job in the 'real world!' I lasted some 18 months in the D.H.S.S before permanently leaving my dreams of a career in art behind me to pursue a career as a Police Officer in the West Midlands Police. Apart from the odd sketch in the early 80's, I de-skilled on the art front, getting married and having a family took priority along with my desire to specialise in the C.I.D. Some 30 years on I made the decision to retire from the force at the tender age of 49 and jumped at the chance to re-kindle my desire to paint!

In the early 90's I professionaly crossed paths with Geoff Thompson a Doorman who worked at Night Clubs in Coventry. Although we worked on opposite sides of the 'Violence Fence', our paths crossed again quite by chance in retirement.

Geoff, now a B.A.F.T.A winning author and martial arts instructor (polled as the number one self defence instructor in the world by Black Belt magazine USA) , has been hugely inspirational in my return to the Art World and for that Geoff I will be eternally grateful!


Be the first to post a comment.