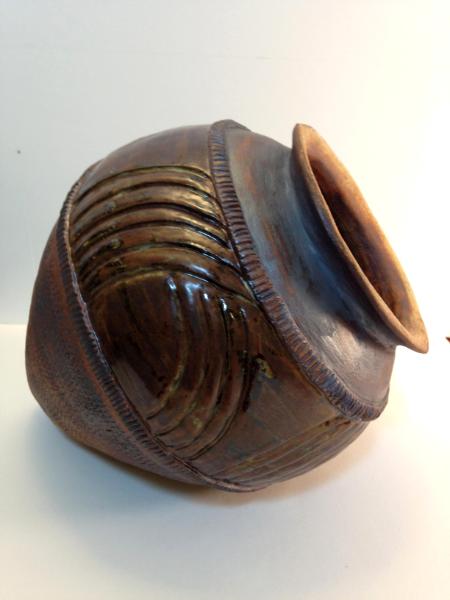 African Water Vessel
Ceramic. H:11", W:8-1/2", D:8-1/2". This piece was created using the hand building coiling method to satisfy the cultural vessel requirement in Ceramics 270. Most African potters are women who pass the craft down generational lines. Many still use the traditional coil building method to create their wares. African woman treasure their role as potters because it provides an avenue for financial stability not frequently offered to them due to their gender. The water vessel is a symbol of "possibilities" for African women and their families. In addition it symbolizes "life" because it is a carrier of a severely scares resource in Africa. Water carrying, also a job reserved for woman and children, represents the perseverance of the people and their daily struggle to survive not only natures forces but the plight of human existence in Africa.
The water vessel holds symbolic meaning to me because it is a carrier of water, a symbol of emotion. This is relevant because I have found clay-work to be profoundly clearing of my emotional state, commanding focus, internal centering and breath. Not only does it demand presence to the process, it is a mirror of my internal emotional wellbeing. To be wholly present to the clay is to be deeply connected and nurturing to myself, cleansing me and replenishing me like water supports life.
Be the first to
post a comment
.