POLITICAL ART IS POINTLESS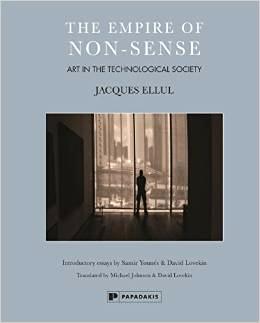 Many modern artists and architects continue to imagine and build the world technologically. Their beliefs remain firmly rooted in their assumption that the liberating forces of technology freed them from previous artistic traditions while making available vast means of production and a plethora of materials. All artistic traditions were seemingly put aside by the paintings of Cézanne, the poetry of Baudelaire, and the architecture of Le Corbusier.
Behind this apparent freedom French critic Jacques Ellul, author of the classic The Technological Society, found an absolute slavery. The artist was the handmaiden of technology, a relation the artist no longer understood, like other citizens of technological culture. Artists acclaimed their unbridled individualism while being intensely determined by the forces of technological culture.
Ellul examines this process in modern art from the beginning of the 20th century where the sense of art - its meaning and embodiments - is reduced to non-sense. Ellul's study is in the tradition of Guy Debord's The Society of Spectacle and Theodor Adorno's Aesthetic Theory but moves significantly beyond their Marxist perspectives that were, from Ellul's view, co-opted by technique.


Be the first to post a comment.

Previously published: