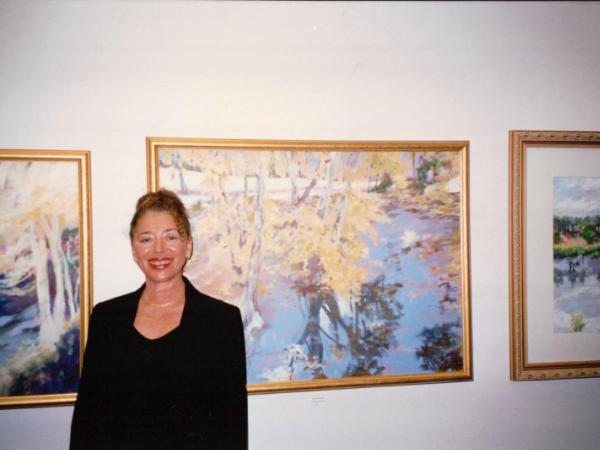 The paintings of Harriet Phillips capture the essence of her subject matter in the paradox that is at the heart of truth. Her work is strong yet soft, sophisticated yet innocent, contemporary yet timeless. Whether portrait, figure, still life, floral, or landscape, Harriet's impressionistic style has a contemporary quality. She has been described as a vibrant colorist whose work is infused with energy and movement, and whose sensuality and love of life are captured in her images.

Harriet began her career studying with portrait artists Nicholas Kratofil and Philip Salvato. She spent many years drawing portraits and figures in charcoal, pen and ink. Early in her career, she worked as a portrait artist at art festivals and accepted commissions in her own studio before transitioning to painting in acrylics and oils, and later in watercolor and pastel.

Harriet continued her studies in portrait and figure at Chatham College with Joseph Sheplar and at Carnegie-Mellon University with Herb Olds. What became apparent in her style was the energy of aliveness evidenced through movement and gesture. Harriet then moved into the challenging medium of watercolor - studying with Bill Vrsak, Dona Groer, and Kathryn Galey. She began accepting commissions for portraits in watercolor, as well as being attracted to the softness and femininity of florals in that medium.

It was when Harriet began to work in pastel that she became truly inspired. The immediacy of the medium generated great energy and excitement, and Harriet expanded her range of subjects in an explosion of color that became more and more impressionistic as Harriet joyfully explored the full range of freedom of expression.

Harriet preferred to paint on location, and traveled to paint in the Southwest, New England, France, and Greece, as well as Western Pennsylvania where she lived during most of her life. She spent winters in Southern Florida where she continued to paint and exhibit. Her paintings were shown in galleries in Ft. Lauderdale and Hollywood and also exhibited by the Addison Gallery in Boca Raton.

Harriet had several one woman exhibitions of her work in Pittsburgh galleries. She was awarded prizes in a number of juried art exhibitions. Harriet's paintings have been included in collections in Pittsburgh, New York, Vail, Cape Cod, Palm Springs, Seattle, and in Brittany, France.