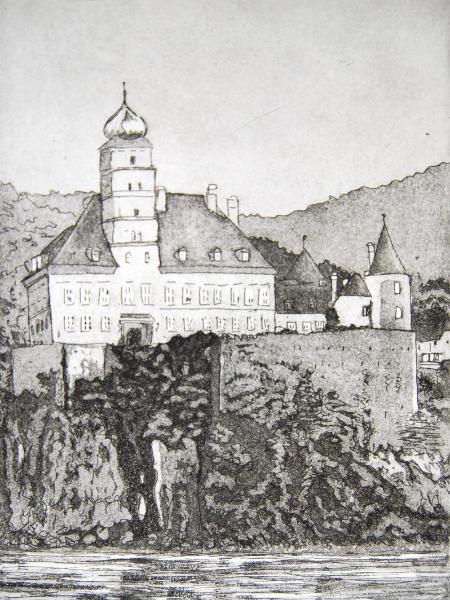 Schönbühel Castle on the Danube

sold out / unavailable
Copperplate etching printed with oil based ink on BFK rag paper. 6" x 9". Edition of 3. Signed, numbered and dated.

The Schönbühel Castle is over 1000 years old and was the property of the Bishops of Passau. The castle is known as the "Watchman of the Wachau".
The castle is built on rock approximately 40 metres above the level of the river
Danube
. A Roman fortress may have stood there before. The castle was begun in the early 12th century by Marchwardus de Schoenbuchele as a defensive fortress. When his descendant Ulrich von Schonpihel died at the beginning of the 14th century, the family was extinguished. The castle was briefly owned by Conrad von Eisenbeutel, and then by the
Abbey of Melk
. In 1396 it was sold to the brothers Caspar and Gundaker von
Starhemberg
. It remained in the Starhemberg family for more than 400 years, but fell into disrepair.
1 comment |
Post comment
This is beautiful Barb. I really miss seeing the works in progress. If you have a show, be sure to invite me.
-- Karen Karnuta, 1/12/15