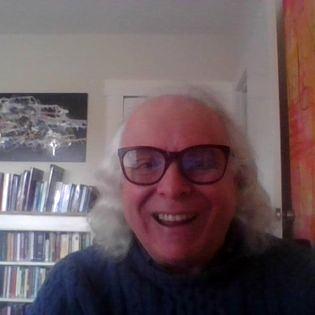 Biography
: San Francisco Bay Area artist Charles Kruger (aka "The Storming Bohemian") surprised himself when he began painting shortly after his 50th birthday.
Considering himself a religious/spiritual painter, Mr. Kruger describes his work work as being informed by his years as a monastic oblate (lay associate of a Benedictine monastery) and he consciously utilizes shamanic practice and meditation in creating both large and small canvasses depicting interior landscapes and spirit helpers.
Besides painting, Mr. Kruger is deeply involved with the San Francisco Bay Area literary and theatrical communities. He was a founding Board member of the reading series, "Quiet Lightning," and a cofounder of a second series, "Bay Area Generations." His writing has appeared in The Rumpus, Sparkle and Blink, OnTheBus, Red Fez, and elsewhere. As a member of the San Francisco Bay Area Theatre Critics Circle he edits the website "TheatreStorm" which features coverage of the Bay Area theatre scene with reviews, interviews, and feature articles.

---
Artist's Statement: My artistic practice is rooted in the concept of "not knowing." It is informed by spiritual practices of meditation, shamanic healing, and Benedictine monasticism.

To start the process of a painting, I utilize an always evolving vocabulary of random drips, marks in charcoal, washes, glazes, collage and textures. In this way, the surface is broken up until it calls out for healing. In responding to that call, I strive to organize the material into a coherent whole which is almost always abstract, while including suggestions of landscape or figure. The finished painting of an interior emotional landscape will often include figures (animal, human, or mythic) whom I understand to be spirit guides.





Be the first to post a comment.