a Re-cycled night home...alone again
Art competitions
::
Art Meets Fashion
:: a Re-cycled night home...alone again
Please join us in thanking all artists who entered their work in the Art Meets Fashion competition.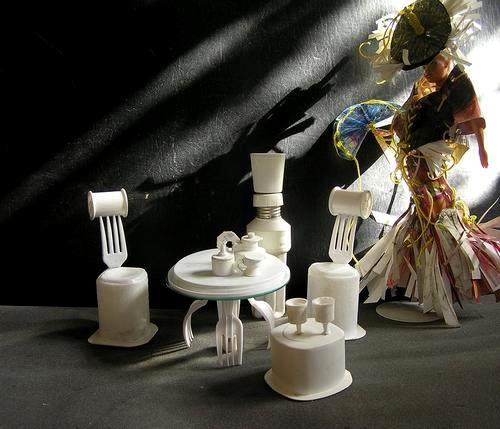 a Re-cycled night home...alone again
JB Sabin

Next
Here is a re-cycled use of Plastic "Take-Out Utensils" and Yogurt containers and old Cottage Cheese container Lids...
...The Chairs are made from the Yogurt Containers with Plastic Take-Out Forks as the back supports...with a plastic threat-spool as the head-rest.
...the Table is a combination of Plastic Take-out forks and a Cottage Cheese lid
...the cups and Tea Pot are made from old plastic screw-top tooth-past lids and dish-washing soap lids.with a plastic bendy straw.
...The 11 1/2 inch Fashion Doll's outfit, plus accessories, is made from old re-cycled paintings and drawings with plastic packing tape, fabric glue and bright yellow shoe strings to hold everything together.
I created this back in 2009, and did the photos to show off the design capabilities of the use of re-cycled materials from our everyday life.