6/15/11

Nexus Entertainment Arts and Jackbox Productions (

http://nexusentertainmentarts.com/

) is putting on it's 1st Annual music and art festival in Cedar Rapids, called 319 Fest and we are on the hunt for artists!

We are trying to make this festival different from the normal music and art festival. We will be having demonstrations and workshops with both the visual artists and musicians. We want to make this event as interactive as we can and are asking for ideas from the community as to what they would like to see and do at the festival.

This is a one day show, August 13th at Hitters Ball Park.

We will have all of the artists under one giant tent and will provide one table, 2 chairs and electricity for each arts. Since this is the first year for this festival, we are giving a break on the cost of the booth. A 10x10 space starts at $50. There are also prime booth spots and double booth spaces available. Additional information is provided in the attached application form.

If you would like to learn more about the festival, you can go to the website (

http://319fest.com/

) or check us out on facebook. You can also email me back at

319artists@gmail.com

.


Be the first to post a comment.

6/3/10

I can now officially add the New Bohemian Art Festival to my schedule!
June 5 & 6, 2010 - Iowa Arts festival in Iowa City (http://www.summerofthearts.org/festival-menu/arts-festival/about.aspx)
July 4, 2010 - Freedom Festival in Downtown Cedar Rapids, IA (http://www.freedomfestival.com/Freedom-Festival/Events/20100704/61/Patriots-Bazaar.aspx)
July 16 & 17, 2010 - Camp Euphoria in Lone Tree, IA (http://www.campeuforia.com/)
September 4 & 5, 2010 - New Bohemian Art Festival at New Bo Park, Cedar Rapids, IA


Be the first to post a comment.

5/1/10

It was a long and hectic winter and it is now time to get back into the swing of things. Namely new ideas, paintings and art festivals.

As of now, I am going to be vending at:
June 5 & 6, 2010 - Iowa Arts festival in Iowa City
(http://www.summerofthearts.org/festival-menu/arts-festival/about.aspx)
July 16 & 17, 2010 - Camp Euphoria in Lone Tree, IA
(http://www.campeuforia.com/)
Hope everyone is enjoying spring and looking forward to a great summer!


Be the first to post a comment.

11/18/09

Hi everyone,




I can't believe Halloween is over and we are almost a week away from Thanksgiving. I haven't had much time to create anything new in the last month. School and my two jobs have been keeping me busy, but I'm starting to get some breathing room. I am hoping to get at least 2-3 new paintings done for the next show.




Speaking of which, the next show will be the Thieves Market in Iowa City at the IMU, December 5-6. This is an indoor show and I hear it is a great kick off for holiday shopping.




Even though I haven't come up with any new paintings, I have been playing with shrinky dinks! Remember shrinky dinks, the plastic you could color on with colored pencils or markers that you would cut out and bake in the oven. Then it would magically shrink before your eyes (if you had a window in your oven). You can now buy this shrinking plastic that you can use with your inkjet printer. I've been experimenting with taking my monster designs and making pendants for necklaces. The first round had some success. I am hoping to have better results tonight. If they turn out, I will have some for sale at the show.




As always, if anyone has any suggestions or new ideas, I am all ears.




Cori


Be the first to post a comment.

8/21/09

It's been a while since I've posted anything so I thought I'd update everyone as to what is going and what is coming up for the rest of year.




Since losing my job in May, I've been keeping busy. I started school in June. I enrolled in the Multimedia Design and Development bachelors program through DeVry online. For work, I've been doing freelance a couple days a week at Creative Design in Hiawatha and started a 2-month contract job with Curriculum Associates in North Liberty. In my spare time (like I have spare time), I am trying to get a bunch of new paintings done.




This leads me to upcoming events:

- September 12-13: I will have a both at the Beaux Arts Festival in Davenport, IA.

- October 2: I will have my paintings on display at Glassando in Iowa City for the next gallery walk. They will be on display until November 14th.

- December: I am hoping to have a table at the Thieves Market in Iowa City.




I hope everyone is enjoying this crazy-weather summer. I can't believe fall is right around the corner!


Be the first to post a comment.

6/7/09

The Iowa Arts Festival in Iowa City was a great success thanks to all the smiling faces that stopped by my booth. Despite the rain showers both mornings, the days turned out well as did the crowds of people. I am now inspired by all of the wonderful comments that visitors made to go forth and breath even more life into some already lively monsters. Stay tuned...

Thanks again to everyone who stopped by.


Be the first to post a comment.

5/31/09

It's finally upon us. Next weekend (June 6-7) is the Iowa Arts Festival in Downtown Iowa City. I still have a lot of work to do to get ready. If any of you are in the area stop by and say hi! I will be at booth #37 on Dubuque St, not too far from the main stage. I will have original paintings, prints, hemp necklaces and greeting cards for sale.


Be the first to post a comment.

3/31/09

It's been a while since I last wrote. Not much had been going on. I was working on another set of 50 necklaces to send to Art-o-mat (shipped them about a week ago) and trying to figure out the best (and cheapest) way to go about making prints of my work.

A few major things have developed in the last month. About a week and a half ago, the company I work for decided to close the doors and move the operations to New York. It was a real shock to all 70 of us. I know this a recurring theme in the world today, but it still doesn't make it any easier. So... now instead of being able to focus on my art and feeling like I was making progress, I have to make some major decisions in my life. Right now, I am looking at going back to school for web design. All the graphic arts positions I have seen listed want some kind of web knowledge. I know the basics, but not enough to be comfortable saying I can do it for a living. I'd love to be able to just stay at home and paint.... but I have bills to pay.

The other news is that I just found out I have been accepted to be in the Summer of the Arts festival in Iowa City (so much for putting my art on the back burner). This will be my first outdoor event and I have no clue how I am going to do the display. My main concern right now is getting a tent lined up. Those suckers are pricey. A decent tent can run at least a couple hundred, and that is just for a 10x10. Renting one is almost as much, but is cheaper. If any one has suggestions or has a tent I can borrow (pretty please, with sugar on top), please let me know. The festival is June 5-7.


Be the first to post a comment.

11/18/08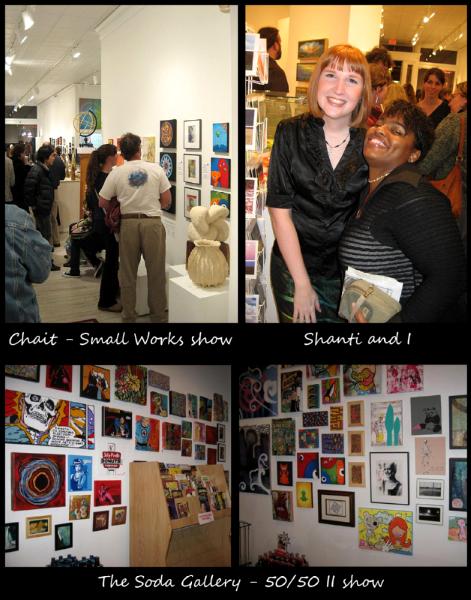 It's been quite a whirlwind the last couple weeks. Feels like several months has gone by instead of only one since I started this website.
Well, it's been just over a week since the Chait Gallery Small Works Show. The week of the show was crazy. Chait had contacted me and asked if they could make my paintings into greeting cards to sell in the gallery. We discussed it and I signed a contract with them. So, the night of the opening I had my very own cards for sale. Very cool. Another great thing that happened was that the day before the show the local paper, the Press Citizen, published an article about the Small Works show in their weekend section. Guess who's painting was on the front cover in full color with her name printed big and bold....
The night of the opening, I knew there would be quite a few people in attendance. There were many people that had come up to me at work and said they were going to stop by along with several of my family members. When I got there, I was not prepared for the wall of people that had come out. It was amazing. There was a steady stream of people the entire night.
None of my paintings sold that night or won best in show, but I felt like winner. I received so much great feedback from everyone. There are so many opportunities and suggestions coming my way, with the help of my good friend, co-worker and promoter, Shanti, that I am not sure how to proceed. I'm a little overwhelmed.
To add to all this, I just got back yesterday from Dallas, TX. I went down for a long weekend to attend the opening of the 50/50 II show at The Soda Gallery. I got some really good responses to my work there as well. "Meditating Kelly" was sold while I was there. I was pretty excited.
So, now that I have those shows under my belt, maybe I can sit down and figure out what to work on next. Any suggestions?


Be the first to post a comment.

10/27/08

It's finally starting to happen. I am going to be in my first gallery show. For years, people have asked me what I am still doing working in corporate America. They say I need to be showing the world my talent for art. Well, until now, I don't think I was ready. Not that I'm totally prepared now, but I feel like I'm in a pretty good place in life to give it a try.

The first gallery show is a judged small works show at the Chait Galleries Downtown in Iowa City, Iowa. The opening is coming up November 7th. I'm pretty excited to see how the paintings are received by the art connoisseurs.

The second show is in Dallas, Texas at The Soda Gallery. It's called the 50/50 II show. All the artwork sells for $50 each and they are suppose to be no bigger than 8x10. The show is November 15th and I am hoping to drive down the day before to attend.


1 comment | Post comment

Congratulations on the acceptance of your work for the gallery shows! I like your work, particularly the Bassett Hound. Thanks for sharing.
-- Charlie, 10/30/08