Girls on a Slide by Arthur Lavine
Children at Play by Dana Levine
You are invited to a wonderful new exhibition, Lavine/Levine: Relative Viewpoints, featuring the photographs of Arthur Lavine and Dana Levine.
Dates and Times: Sept. 11-Nov. 27, Sun.-Fri., 9 am - 5 pm


Place: Gotthelf Art Gallery

Center for Jewish Culture

Lawrence Family Jewish Community Center

4126 Executive Drive

La Jolla, CA 92037


Artists' Reception: Wed. Sept. 11th at 7:30 pm
Bridle Path, Central Park by Arthur Lavine
Vermont Farm by Dana Levine
Twenty-four photographs by Arthur Lavine are matched to approximately 24 photographs by Dana Levine. Arranged side by side to allow viewers to compare and contrast them, the theme is a look at life from the mid-20th Century up into the 21st. The gentle humor of the scenes, character and dignity in the faces of people, quiet contemplation of daily life, and nostalgia for favorite places remind us that life has not changed all that much through the years.

Woman Stockholder by Arthur Lavine
The Goth Look by Dana Levine
Arthur Lavine and I are distant cousins. Here's the backstory:

I met my cousin Arthur for the first time six years ago. In May of 2007, I saw a notice of a photographic exhibition, Arthur Lavine: Peripatetic Wanderings and Meditations, at the San Diego Museum of Photographic Arts. Since my maiden name is Lavine, I wondered if Arthur could possibly be related to me. On a day at the museum when he was signing copies of his book, An Inquiring Eye, I presented myself, Lavine family history in hand. We soon discovered we are related.
Arthur Lavine has been a working photographer based in New York City for more than five decades while I, a scientist and artist, bought my first digital camera less than ten years ago. Arthur is a nationally known photographer whose work is represented in museums across the country while I show my work at galleries primarily in San Diego.
We come from different generations and bring divergent life experiences to our work. He works with a film camera in black and white and I with a digital camera and Photoshop. But when one looks at the outcome, our photographs are strikingly alike. Their subject matter, compositional elements, emotional impact and visual imagery bridge the gap across the years and present a way of life and the world around us that show a similar point of view.

In the six years I have known Arthur, I have come to realize there is an amazing visual thread, woven through time and space, that somehow connects my cousin to me. This connection forms the basis of our exhibition, Lavine/Levine: Relative Viewpoints.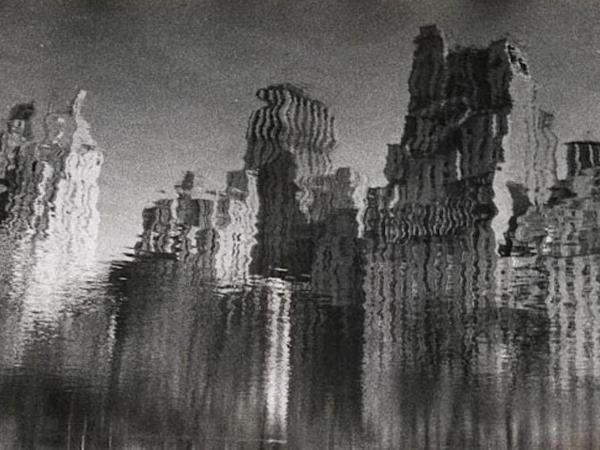 Skyline Fantasy II by Arthur Lavine
South Bay Saltworks by Dana Levine