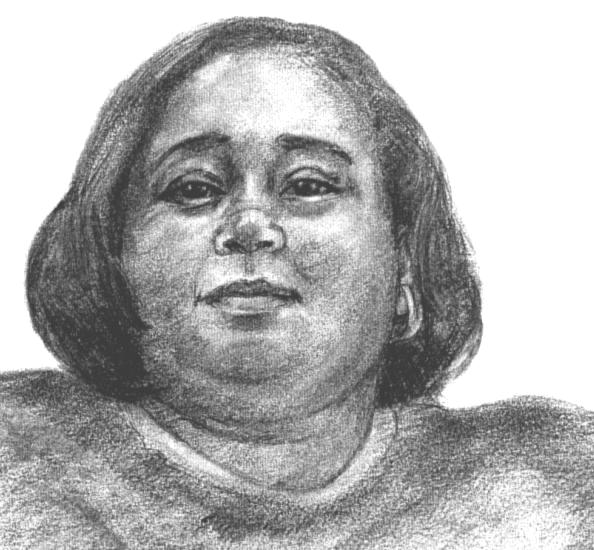 Sharyn Jordan Holland, 2001
"I'm trying to take care
of me. If you don't like
me, fine! I'll be all right."

Today, I don't have to worry about what the crowd is doing. I'm trying to take care of me. If you don't like me, fine! I'll be all right. I got me. I love me. That's what's important today.
But it took so long! I'll never forget the time I was sleeping in front of the Goodwill down here on Main Street, and it was cold outside. Somebody had donated a couch and had put a whole lot of clothes out there. So I covered myself up with clothes and before I went to sleep, I said, "This is getting kind of rough! I'm scared to go to sleep right here!" And I said, "Well, so what! I won't wake up. I won't have to worry about tomorrow." I just went on and went to sleep because I didn't care if I died.
There was this old lady who used to sit on her porch down here in the projects, right down the street. That was my stomping area. And I'd have been up for five, six days. Clothes are nasty, hair all over my head. And she'd sit on her porch and always speak to me. Because she knew my mother, she knew my father—she went to my mother's church. And I was so embarrassed. Even though I was good and high, I'd try to sneak by without saying anything.
She'd say, "Hey baby! I see you! You know you can do better than that!" I'd say, "Yes ma'am." And I'd keep right on walking, because she was touching my heart, and I didn't want anybody to be able to do that. She'd always catch me! Like she kept looking out her window to see me coming!
She's seen me twice since then, and we hugged necks, and she was crying and she told me she was very proud of me. And I apologized for all those days I walked in front of her, disrespecting her.
Whewww!!! Jesus, I wonder if I'll get emotional for the rest of my life!?

*


I have my own apartment. I pay my own bills. I put my own groceries in my house.
People don't understand it. Because they did never go into a period where they never had a place to stay. They didn't wake up hungry in the morning and didn't know where their breakfast, lunch, dinner, snacks, whatever, were coming from. They didn't stay in abandoned, dark houses. So they don't know how good it feels to wake up and vacuum your rug, and sweep off the porch, or do your windows and look across and maybe just
see a dumpster as your view, but, you know, it's yours!
*


Of course, I have trouble sometimes getting certain jobs because of my background, because of that felony that I do have on my record. If they do an extensive check, it shows up. But if they do a seven-year check, it doesn't show up. It's been that long. Some people tend to think you're still the same person. I just wish they could come spend a weekend with me at my home. I have a two-bedroom apartment. My baby, she has her own room, and my husband, we have our own room. A nice large living room, furniture that is exquisite because we spent our savings for it. I live comfortable! And if they were to come into my home and sit down, I would serve them breakfast, entertain them, we'd watch TV, listen to music. They would see I'm not that person that made that mistake, made that bad decision.
Things do change. Some people who are in charge of positions in some hospitals and important businesses may read this and say, "Hey, there's that girl who came in and put in an application! Let me call her. Because she's doing something different today. She just might be an asset to my agency."
I don't hide who I used to be, because I'm so proud of where I've come. If someone says, "Well, Sharyn, what were you doing ten years ago?" I say, "Oh, girl! I was messed up ten years ago! I was in and out of the shelter. I was on crack cocaine. Drinking. Homeless. Children gone." I don't have a problem with it. I'll tell anybody. Some people don't care to know, but I'm still talking about it!
Be the first to
post a comment
.