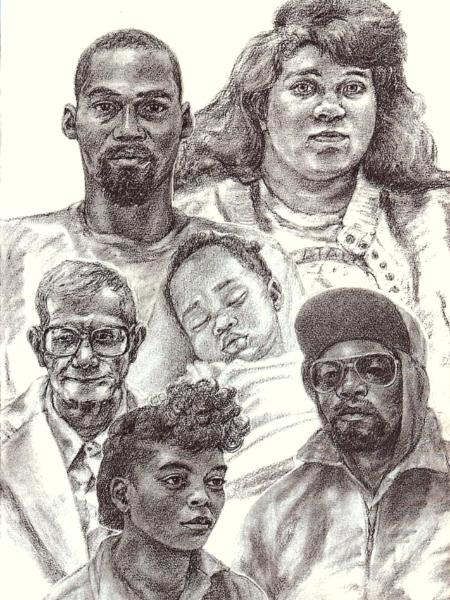 The Residents
Forward


It's the eyes that most demand our attention.
Some look downward, a very few look vacant. Most look directly at you without malice or self-pity or hopelessness—all sentiments that could be justified.
Edie Cohn's charcoal drawings of homeless people present us with portraits that are overwhelmingly ordinary yet exacting in their detail. The man with a thin face and eyes that squint as he smiles slightly is wearing a pullover sweater. He might be a student at the university. The toddler in a jumper with her hair tied on top could be the precious child of a family in Suburbia, U.S.A. Or the man with the hooded cap and wide glasses: he looks like the man who bagged my groceries last night at the Kroger.
There is really very little to tell us that this group of primarily African-American men, women, and children were homeless when these drawings were made. The artist has not imposed any stereotypical images. She simply recorded what she saw: faces holding sorrow and resignation, yes, but joy and delight as well.
Looking at the range of portraits, a viewer can easily imagine one's own portrait among them. This brings one to an intimate truth: the homeless are closer than we realize or perhaps feel comfortable with. When a group of us decided years ago to put a collage of Edie's drawings on a T-shirt to sell, I bought and wore one right away. To have the faces of the homeless there on my chest above my heart was a wonderful metaphor, but it was difficult. I felt uneasy constantly remembering how fragile life is, how easy it would be for a string of events to come together in such a way that I could be standing there hoping someone like Edie would do my portrait and pay me five dollars.
I was serving as the director of the homeless shelter when Edie began this project more than ten years ago. It seemed a simple enough process. She would sit, listen, draw, comment, and return some days later with a portrait for the homeless person. It was simple. Simply profound.
I watched and listened as the shelter residents who served as subjects would gleefully show off their drawings. Many were childlike in their excitement, while some would try to mask their emotions, via lessons learned from living on the street. Yet their eyes would always give away their exhilaration.
They were important enough for somebody to draw! Their faces and stories were significant enough for someone to render! Too often, they lived as if their presence really didn't matter, as if their lives were of little value to someone else. The portraits became an immediate and powerful medicine for an illness that had seeped into the soul.
Now, with the publication and exhibition of these stories and portraits,
Edie Cohn invites us to see who she sees. We have an opportunity to clear away what we think we should feel and think about homeless people, and allow them to sit with us, a simple enough process.
—Terry Allebaugh
Director, Housing for New Hope
October, 2001
Be the first to
post a comment
.