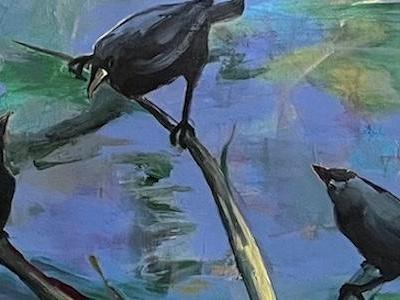 Classes - Learn to make prints!
The Collagraph - Building boards and Monoprinting (the Intaglio method)

This class will be 2 sessions, 2 and1/2 hours each day and will be taught using mat board to begin the first few monoprints. Students will work at their own speed and individualized instruction with demonstrations will follow. Supplies are included with a 3 student minimum so maybe bring a friend! All levels welcome.

New dates will be posted after Jan. 1st. 2023

or Saturdays May 28th and June 4th (Class full)
Time: 9:30-12:00 pm $85.

To register send full payment of class session desired to :

Please include your name and contact info with payment.

Noel Sandino

651 Watson Ln. Las Cruces, NM 88005 (Studio is at this address.)

If class is cancelled for any reason, payment will be returned to you or you can choose to apply it to a later date. If you cancel with 72 hrs notice no charge will be held and you will be refunded.

Questions??? email: noelsandino@yahoo.com cell #: (916) 224-1245



Be the first to post a comment.

Contemporary abstract art. Oil Painting, Acrylic painting, printmaking Contact Noël for sale information
RSS
|
Sitemap