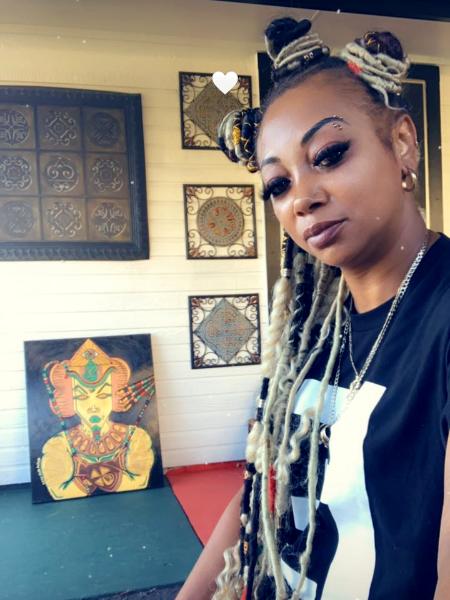 By Krista M. Madkins Killeen Daily Herald
2/3/2012
---
Ketu'rah Glore, a Killeen artist, is one of three to showcase pieces of art at the Vive Les Arts Theatre gallery for the month of February, which is Black History Month. The artists' works are displayed in the theater's foyer. "Art is supposed to shake you (the individuals who view it)," said Maurice Evans, an Atlanta, Ga., artist, and Glore's mentor.
As a child, Glore took Evans' advice and conveys it in her art pieces, using her skills to express stages and times within her life.
Many of her earlier pieces were paintings with 3-D additions and Egyptian culture. Now she has evolved her style to multi-media pieces.
"One of my favorite pieces here (at VLA) is my piece called 'Vanity,'" said Glore during Friday's opening event for the art exhibit. "It's a piece from my Seven Deadly Sins series."
The piece is made up of from 200 to 300 mirrors arranged on a wooden canvas to make the paper-mache body appear to be coming out of the mirrors.
Glore reminisced how she has evolved as an artist. "I was maybe 13 at the time when (Evans) and his girlfriend began teaching me," she said. Evans' girlfriend would braid Glore's hair; being a painter herself, she would teach Glore techniques.
Glore brought her sketchbook and pencil with her to learn different techniques while in Evans' home.
"She was already really good. I just gave her some pointers and supplied her with art supplies," said Evans.

Contact Krista M. Madkins at
kmadkins@kdhnews.com
or (254) 501-7468.
If you go
What: Art exhibit
Where: Vive Les Arts Theatre, 3401 S. W.S. Young Drive, Killeen.
When: 9 a.m. to 5 p.m. Tuesday and Friday. The exhibit is open to the public when the theater opens for shows, typically at 7 p.m. Fridays and Saturdays and 2 p.m. Sundays.
More information: (254) 526-9090.
---
Exhibit portrays shifting landscape of ethnic heritage
---
By Neha Aziz, Daily Texan Staff

Published: Monday, July 12, 2010
African-American artists reflect on cultural identity, embrace mixed media The exhibit features newcomers as well as veteran artists, such as Ketu'Rah Glore. Her artwork takes many forms — some are on canvas while others are showcased in boxes. Another veteran artist, Nailah I. Akinyémi-Sankofa, took a 3-D approach with her art, although it was not necessarily culturally relevant to the exhibit. One thing is certain: The artwork showcased is of an eclectic taste. The works "Wrath" and "Envy" by Glore were done in a similar style, with the faces contorted and the eyes, empty. These two pieces are on a more abstract level in comparison to her other pieces. Another work, titled "Spirit Locks," is more playful and lighthearted. It displays a wig of dreadlocks attached to the Jamaican flag to represent her ties to the country. Glore describes her style to be "an ethnic abstract" and universally accepted mixed media."
---
Artist creates 8 sin-inspired works
BY: Alicia Lacy Killeen Daily Herald

"Glore's newest series, "Seven Deadly Sins," captures each sin through her own interpretation in an eight-piece collection." "Glore, who came to Killeen from Georgia in 2005, is now attending ITT Technical Institute studying computer drafting and design as a more productive way to explore her artistic talents and perfect the skill and as an "answer to the recession." "Glore said she is shopping around for museums or a venue that can accommodate the three-dimensional pieces so she can feature the collection."
(ALL STATEMENTS IN THIS REPORT ARE NOT TRUE JUST MODERATELY ACCURATE)
---
---
Posted On: Friday, February 02, 2007

By Rose Luna
Killeen Daily Herald

"In honor of Black History Month, Killeen artist Ketu'rah Glore has put together a 10-piece collection that will be showcased at the Under One Roof bookstore in Killeen."

Glore's show, "Ethnic Funk," will premiere from 11 a.m. to 1 p.m. Saturday and will continue to be on display through Feb. 17.

"The Black History Month show is a big deal for me," Glore said. "I'm my own worst critic and I'm truly a perfectionist, so I worked long and hard to put this show together." "In Glore's piece "Africa," there's a vivid amount of political symbolism with a sense of celebration for her motherland. A globe protrudes out of a three-dimensional black masked face with images of Africa on a black-painted canvas." "I did more three-dimensional art to make it more funky and give it another effect," Glore said. "The art literally jumps out of the canvas." "Glore uses many Egyptian hieroglyphics in her paintings, because she loves Egyptian culture. She also uses abstract nudity in much of her work – a subject"
---
SOURCE:
---
ART EXHIBIT CELEBRATES ETHNICITY
---
POSTED ON :Feb. 12 2006
BY: Erin Steele Killeen Daily Herald
"Glore had finished the work two days before, just in time for Saturdays exhibit at Under One Roof. It was Glore's first showcase, and members of the public made their way into the bookstore to partake of her offerings." " Vernon Russell stood gazing at Keturah Glores artwork Saturday afternoon, stopping to particularly study Loyalty, a painting that explores the themes of relationships and material wealth."
---
---
Killeen artist prepares to show her work at Under One Roof
---
POSTED ON: Saturday, February 04, 2006

By: Erin Steele
Killeen Daily Herald

"The walls of Ketu'rah Glore's home glitter with her artwork, hand-crafted works of acrylic, fabric and even the occasional piece of jewelry." "Her work is peppered with images of couples, cats and eyes, all of which combine to create a positive representation of ethnicity. The paintings, she said, are dedicated to showing images that people of any ethnic background can be proud of and relate to." "The artist said she is most inspired by life's little events and hopes those attending the exhibit will walk away inspired as well."

"It's a new glimpse of what 'black' art is. I call it 'ethnic art' the cat is not really 'black,' it's universally beautiful," Glore said. "Because it's Black History Month, I hope everyone walks away with a new look at their self and black people, and realize we have artists out there who can represent us in a different way."
---
FOLLOW ME: Instagram : AbstractRoyalty
---
---
http://www.dailytexanonline.com/node/1503
http://www.diversearts.org/DALG/events/fresh_black_paint_10.shtml
http://www.kdhnews.com/archives/default.aspx?q=GLORE
http://www.kdhnews.com/news/story.aspx?s=64075