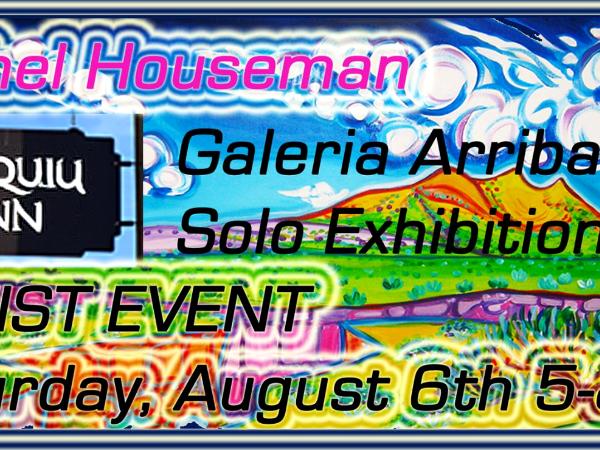 Do you love color? Artist Rachel Houseman will be showing over 25 new paintings at The Abiquiu Inn, Galeria Arriba: Show Opens Saturday, August 6th 6-8 pm. Rachel's style is unmistakable, her use of line, color and interpretation of both classic and unconventional desert scenes will leave you breathless. Don't miss this show! August 6th-September 2016. Address: Abiquiu Inn 21120 US-84, Abiquiu, NM 87510 For more information about the show Call:(505) 685-4378.
Rachel Houseman is an artist who has a truly original style that is both familiar and new, modern yet timeless. The artist is inspired by the colorists, such as the likes of Georgia O'Keeffe, Keith Crown, and David Hockney; as well as many of the artists from the post-impressionist, pop art, and psychedelic eras of art. Rachel has been exploring the use of color to inspire the viewer with a sense of mystery that dwells within the desert and its offerings of sensual colors and light. She is inspired by real experiences in nature and most of her paintings are created Plein Air, meaning that she has brought the canvas onsite to draw from real locations.
Cornell Winery March-April 2016. Rachel Houseman will be Featured as Solo Artist at Cornell Winery, Malibu CA. Show Opening Dates & Artist's Night TBA. Rachel Houseman will be exhibiting 25 paintings from the Mailbu and Agoura Canyon areas. These are Plein Air colorful landscapes of the surrounding wineries, Mohulland Hwy Views, and the Ocean. Don't miss this one-of-a-kind showing in the most wonderful surroundings of Malibu Canyon and excellent local wine selections at the Cornell Winery, 29975 Mulholland Hwy, Agoura, CA 91301
Rachel Houseman & Paula Swain show together at Eye on the Mountain Art Gallery in Santa Fe NM March-April 2015. Female Contemporary Plain Air Colorists Unite!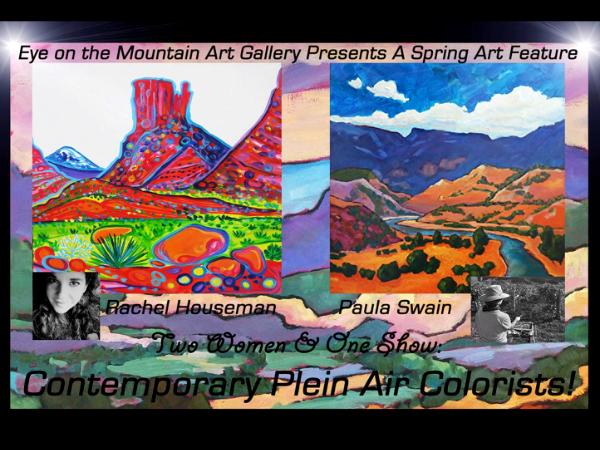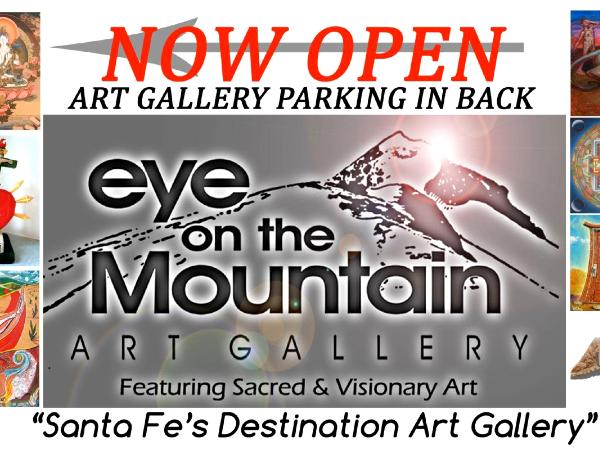 Eye on the Mountain Art Gallery GRAND OPENING! July 25th 5-9pm Meet the Featured Artist Dewey Nelson
With Special Guest DJ DIEVOLVE Live music & refreshments
Welcome to our New Location, the "Eye" is Open! After 10 years of art business on and off the road, Eye on the Mountain Art Gallery is celebrating its grand opening in Santa Fe on the edge of the booming Railyard Arts District. The gallery is located at the corner of Agua Fria Street and Romero. The gallery features sacred and visionary art themes. The "Eye" will kick off with a Grand Opening Night Friday, July 25th 5-9pm. The gallery is a collective featuring 20 different visionary and sacred fine artists from around the world as well as visiting solo artists. The Grand Opening Night featured artist will be Dewey Nelson. Nelson is both a Prescott, Arizona native and a Hopi Tribal Native. His new artworks will be on display.. "The conceptual content of his work relates directly to his Hopi ancestral heritage. Appropriating imagery of north American indigenous peoples from the late Victorian era while empowering them with weaponry employed by contemporary revolutionary movements is the emphasis of his current body of work."
http://www.eyeonthemountaingallery.com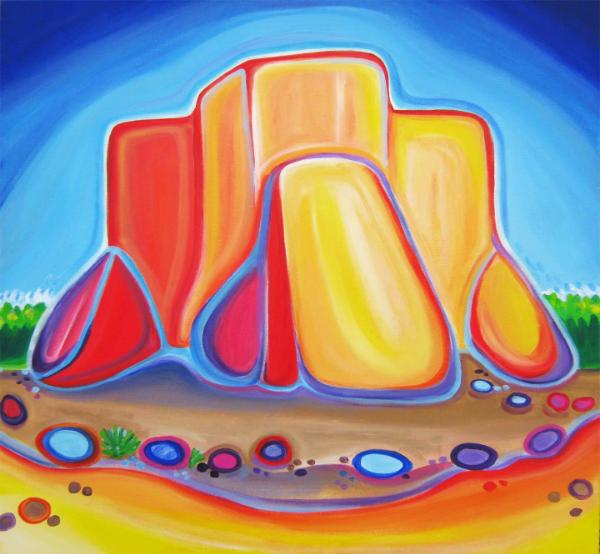 Range Cafe in Benalillo, New Mexico is now featuring 35 original artworks by artist Rachel Houseman. Visit www.rangecafe.com for more information.

Rachel's Epic Artwork "Spirit of Arizona" will be featured at the ASU Poly Tech Campus Library until September 2014. Visit:
https://lib.asu.edu/poly
for more information.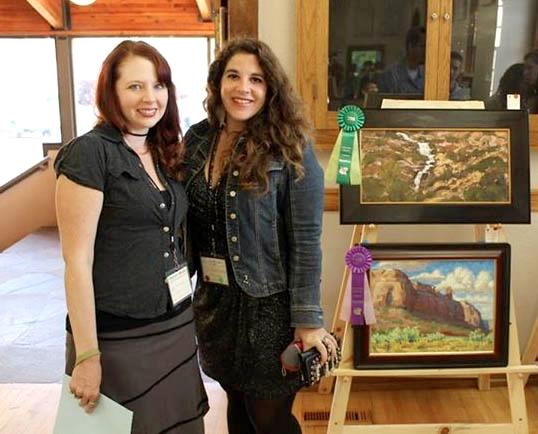 Rachel Houseman to be one of the featured artists in this year's Moab Plein Air Festival. Don't Miss it October 3rd-11th:
www.pleinairmoab.com
.
Rachel's Artwork was featured at all 25 Pita Jungle locations for 2 rotations through out the Phoenix, AZ, Scottsdale, Mesa & Paradise Valley from 2012-2013.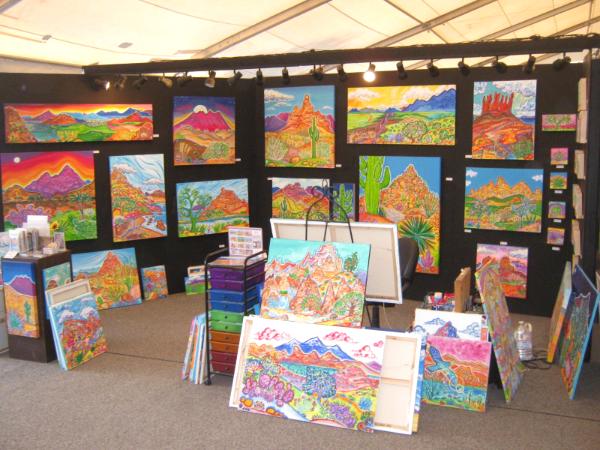 Here is a look at the AZ Fine Art Expo Booth Jan-April 2011. We had 1000s of visitors to my booth and enjoyed sharing my art with Arizona!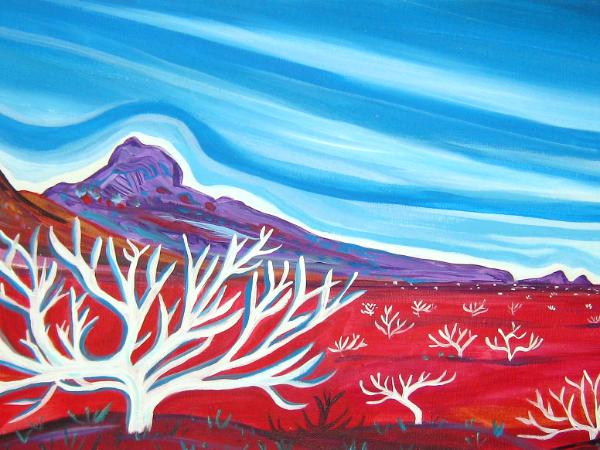 "The Soul of Nowhere" Art by Rachel Houseman Honoring Wilderness Opens 3/3/17
We are at a turning point. Our National Parks and spaces of wilderness private and public are in danger. This artshow seeks to help the viewer maintain a sense of awe not only for the quality of Nature, but through the Spirit of Nature that is within us all. Freedom is the vast expanse of unexplored textures, spaces and quality of depth in the imagination. OPENING NIGHT: Friday, March 3rd 2017 at Eye on the Mountain Art Gallery, Santa Fe NM. Call 928-308-0319 for more info. www.rachelhouseman.com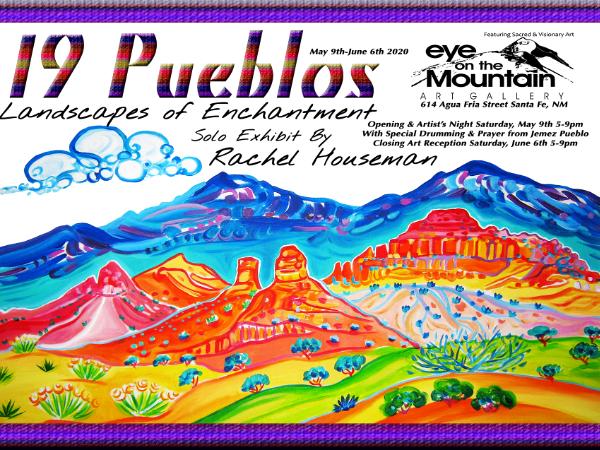 19 Pueblos: Landscapes of Enchantment Celebrates all of Northern New Mexico's Pueblo Peoples through a heartfelt exploration of the landscapes of the 19 pueblos. There are over 25 new paintings on display!