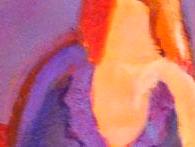 Click an image to view gallery

Acrylic Florals
I consider myself an "eclectic painter, and I go through fits and starts. A go-to favorite is painting florals. As well, when I am teaching ,most students love painting florals, so I do demos and new pieces just to stay ahead of them, sometimes by only a week.
Acrylic Landscapes with a Kick
One of my favorite things to paint are abstract, expressive landscapes, rather than painting those that one can capture equally as well with a camera. I aim to show my feeling ans love for what I paint. I am not necessarily a plein air painter, although I go out to sketch and to take lots of photos to capture the essence of how I feel when I am in the landscape.
Encaustics
Age-old processs of painting with beeswax and fusing layers, whether it be collage elements, mixed media, or elements from nature.
Small Works ~ Dee's Demos
In my acrylics and watercolor classes, I do almost-weekly demos, in which I will do a small study to illustrate a particular process or design element. Currently, I have so many of these little gems [usually 5" x 7," mounted in an 11" x 14" gallery mat and acetate envelope], I am selling them for $30 each or four for $100. If you have any interest or questions about these, please contact me, deedoyle11@gmail.com.
Dee Doyle, acrylics, mixed media, encaustics,watercolor batiks, watercolors, instruction, workshops, classes, skagit county, washington, anacortes, burlington, senior centers, art league north, whatcom art guild
RSS
|