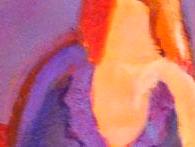 Click an image to view gallery

Encaustics
Age-old processs of painting with beeswax and fusing layers, whether it be collage elements, mixed media, or elements from nature.
Small Works ~ Dee's Demos
In my acrylics and watercolor classes, I do almost-weekly demos, in which I will do a small study to illustrate a particular process or design element. Currently, I have so many of these little gems [usually 5" x 7," mounted in an 11" x 14" gallery mat and acetate envelope], I am selling them for $30 each or four for $100. If you have any interest or questions about these, please contact me, deedoyle11@gmail.com.
Dee Doyle, acrylics, mixed media, encaustics,watercolor batiks, watercolors, instruction, workshops, classes, skagit county, washington, anacortes, burlington, senior centers, art league north, whatcom art guild
RSS
|