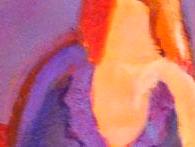 September and October 2018
During September and October, Dee's weekly classes in both Acrylics and Watercolors at the Anacortes and Burlington Senior Centers will focus on Color Theory With Composition and Design We will be revisiting various palettes and color schemes, ways to determine values, ways to mix and use color, and how to apply it. In this process, we will also explore composition styles, design principles and design elements. information. All classes are drop-in. Fee is $15 per class. Acrylics classes meet in Anacortes on Mondays, 9:30 am to noon, and on Thursdays in Burlington, 12:30 to 3 pm. Please contact Dee for further information. deedoyle11@gmail.com.


Be the first to post a comment.

Dee Doyle, acrylics, mixed media, encaustics,watercolor batiks, watercolors, instruction, workshops, classes, skagit county, washington, anacortes, burlington, senior centers, art league north, whatcom art guild
RSS
|