Mary's portrait by her mother's older sister Mary Merrick was painted from life in approximately 1937. The canvas bears labels for "N. Snellenburg & Co." and one side bears the price of 8 cents. Mary Merrick and her sister Frances were close and spoke daily on the telephone in their later years.
The apparent pilgrimage oil, 20X24 is also by Mary Rodney Merrick and is in the collection of her great-grandniece, Allison Tate.
Two of Mary's brothers, Bill and Rodney, were accomplished painters. Her youngest sister Betty is very gifted as the pen and ink drawing below illustrates, and her watercolors are wonderful. Mary's daughter and several of Mary's nieces and nephews have artistic interests, talents and careers in printmaking, painting and photography.
It probably comes as no surprise that Mary married an architect and that they both made sure that museums and galleries were a strong influence in the home as were hikes and nature walks.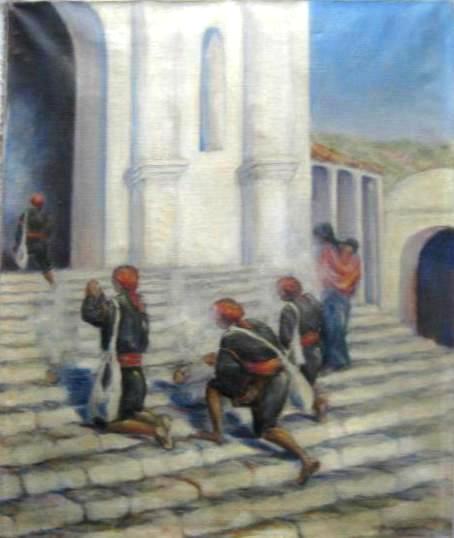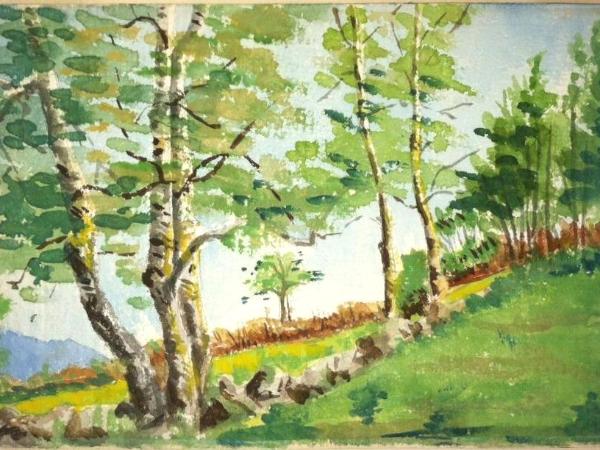 This lovely watercolor, 5" X 7", is typical of the many landscapes painted by Grandmother Chase. To the best of our knowledge, none of her many extant watercolors are dated. She died in 1949.
This small oil (5" X 8") of Yosemite's Half-Dome was painted by Mary's older brother, Rodney. A passionate sailor, he painted many small seascapes as well as landscapes. His larger watercolors are excellent as well. This painting is undated.
Mary's youngest sister, Betty, is a gifted painter, and she drew this pen and ink of the Flatiron mountain range near Boulder, Colorado. It is dated 1988.
Taught from very young to handle pencil, brush and palette knife by her mother, Shielagh painted this view of Mt. Desert Island from Lincolnville Beach looking across northern Penobscot Bay in 1993, with input from Abbot and Posie Pattison and of course from Mary.
This watercolor was done by Mary's brother, William Justice Lee, Jr. and belong in the collection of his grandaughter, Allison Tate.
This work is by artists Allison Tate and Senta Rousseau-Taylor. Allison is Mary's great niece.
I, Shielagh, haven't tried to paint or draw in a while, but I love taking photos. I have been exploiting the easy availability of the camera in my iPhone to shoot any interesting scene I encounter. As I was coming back to my car after visiting my garden plot, I saw a field of milkweed. Visit my blog
here
for my pictorial post on the amazing milkweed.
This painting of a bull was done by Shielagh at age 8 or 9, with a palette knife. I remember painting it. My father had it thumb-tacked to the wall above his drafting table, and I recently found it tucked between other things in a portfolio. I like to think of it as from my "fauvist" period. I still love strong colors and bold designs.