Polly is a beautifully constructed creature She is able to communicate directly with her audience by meditative osmosis.
Full Script for 'Polly Amorra' is available on request. Written by Sally Elsbury the play can be performed for specialised events as a Cabaret, hilariously funny, uniquely challenging. Mask comic Theatre at its best!
I am the Second Coming 'cos I always
Comes twice,
New Messiah SHE ME
And labia large on face where frown do be,
To teach the Sacred Sex-you-reality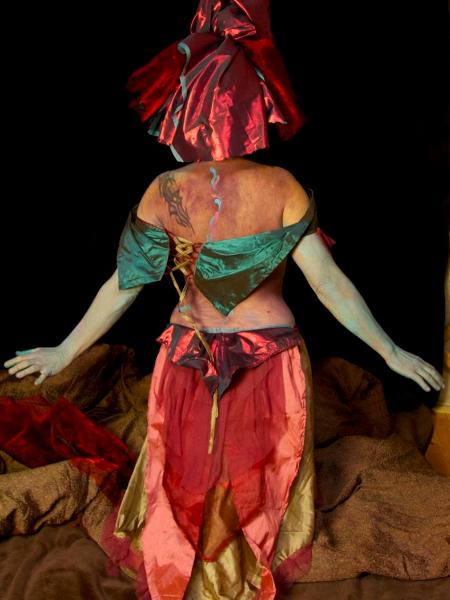 Polly met Dick Split first in the Desert. He found her in an envelope gestating and taking the form you see here today. He knew instantly that she was a New Age, New Eros Message from the Gods and instantly brought her to Ballydehob to cut her teeth with a sympathetic audience of hippies and Wild children.
Polly appeared at the Bliss Festival in West Cork, and then again on National television, on RTE, as part of the /What Women Want' Documentary series in 2013.
Polly was found in the Australian Desert several years ago, and has been incubating since then. She was born in West Cork Ireland and the beginning of the New Calendar, and the end of the Mayan one. She is a Goddess and Sacred Prostitute of the Highest Order, Come to Earth with a mission to save it from it's current destructive disembodied form of human populations. She is only part human, her parentage being both android puppet and divine human.
Polly loves to communicate and spread bliss and harmony with all her audiences. She loves to dance. She loves snakes and Kundalini Chakral Squeezing techniques.
The Venue, Ballydehob Social Club will presumably go down in Herstory as the Official Birth Place.