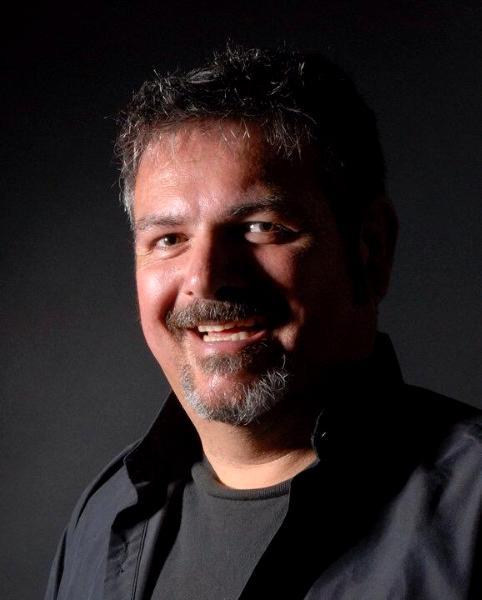 Spotted Dog Workshop officially began in 2008.

Artisan and Lead Designer M Scott Morgan explains, "I tend to run in ten-year cycles. First I did hand thrown functional pottery, then sculptures built on display mannequins and finally found a niche in Upcycling." This was after growing up with his hands in various art forms, usually literally.
"People often have difficulty understanding the concept of Upcycling. It's really easier to explain what it is NOT. Recycling, for example, melts down 100 plastic water bottles and remolds them into another 100 plastic water bottles. Upcycling looks at the bottles, pairs them with strands of multi-colored lights and creates a festive patio décor. Interestingly shaped bottles may become electric lamps or clean incense burners. Sometimes if helps if you squint!" Currently, his supply of "objects d' stuff" includes odd furniture. Birdcages. Turned wooden porch posts. A size 7 tea-length cocktail dress that once adorned a Ghost Bride yard decoration for Halloween. (It's destined to become a lamp.) And all manner of bits loosely "organized" awaiting their creation.

His method of gathering materials has been likened to "hoarding," which he begs to differ. "Hoarders save EVERYTHING their hands have ever touched. I prefer to consider myself a Packrat. During my travels I find different materials and usually have a distinct purpose in mind. I may find a lamp base in need of repair and find just the right shade for it weeks - or months - later. Or longer. Without the artist's vision, it looks like it should be destined to the landfill…. which is exactly a main component of the philosophy behind the Spotted Dog Workshop. He chuckles. "And that's MISTER Packrat to you!"

So where did this visionary knack begin? "Really, I think it all came together when I was majoring in Theatre at High Point University. I volunteered to be Prop Master for Bus Stop. I remember how the Set Designer quickly wrote that down; apparently that was a task no one ever really wanted to take on. I thrived. For me, it was all about the thrill of the hunt and re-envisioning the ordinary into something else entirely." And because he double-majored in English: Communications, all required courses for one became electives for the other. In the end, there were four credits not required but still related.



"Looking back, I wish my parents and I had the collective resources for an additional year. I never learned to draw, to paint or had more than a very basic business course. There is SO MUCH involved to trying to market my work, especially in an area where prevailing thought seems to be that true "art" hangs on a wall. When I was doing pottery and loading up my truck to go to an ART Show, I was surrounded by oil paintings and sculptures…. And sold very little. If I went to a CRAFT Show, there were beer can airplanes and crocheted toilet paper covers. And I sold very little. There was also what I call the "WalMart Mentality" : 'Why should I pay $15 for that bowl when I can get bigger ones at WalMart for $10?' In the end, you thank everyone for stopping by, even the WalMart crowd."


The Upcycling path took a side road when he was invited to show at a law firm. "After I had committed to doing it, I called the Curator."
"Uh… does everything have to hang on a wall?"
"Well. Yes."

"Where I'm from, a man's word is like gold so I couldn't back out. The solution became shadowboxes that told a story or provoked thought. One showcased items that might have come from a Grandmother's attic, another featured classic 20th century toys and one was set up as a television airing 'Hollywood Squares' in the early 1950s. I found period black and white images of movie stars and other celebrities who were all actively working in the chosen year. My favorite part was an old set of rabbit ear antennas attached to the back with foil flags."

"There's more thoughts and ideas running around in the back of my head… just need to write them down in any of five or so notebooks full of notes and sketches."

So for now, the wheels keep spinning, though at varying speeds. Practicality, though not generally an artisan's friend, does sneak in at times and leaves items on the thrift store shelves or on the side of the road.

"Too bad there's really no cure for that. Or telethon."

Please note: This site is representative of my work. Not every is available. Guaranteed one of a kind. Contact for pricing and custom work.