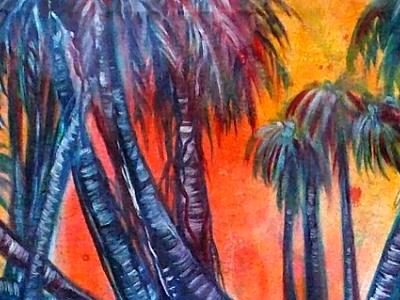 Click an image to view gallery

DiskArt (28 items)


Being green minded, I transform CD and DVD's into works of art, which I call DiskArt. I use CD/DVD disks that were old, worn and bad. So instead of them going into the garbage, they have found their way to me and I turned them into cool art. I am always in need of them, so before you toss any, please send them my way. I will give them a new life.




The beginning of each DiskArt piece starts with canvas being glued and trimmed to each individual disk then painted randomly with acrylic colors. Handwritten; using dimensional fabric paints are TV/Movie/Theatre titles, facts and quotes. The disks are also layered to give the faces some depth, using different sizes of bottle caps. The portraits are finished with a three color oil paint.

Watery Landscapes • Hidden Word Series (25 items)


Each painting has a word hidden within the trees and landscape. Each painting makes you look, think and smile.
Each expresses a word of motivation.

___________________________________

I love painting trees. My inspiration comes from the waterways of Florida. In my earlier paintings I worked from black and white photos that I had taken of some of the rivers I lived near. St. Johns River was one that I had photographed several times. Over the years my style of painting had gone from realistic to impressionistic or a combination of. My most recent work has brought two loves together. The love of trees and the love of motivational words. As a kid; like many others you would lay on your back and look up into the sky to see the formations of what the clouds looked like to you. Sometimes you look at trees and the nature around and you would do the same. In my Hidden Word Series, I took artistic license to create a painting first visually beautiful as a tree landscape, then you would have to look a bit harder to see the word. Some are more easily visible, others will take a few more minutes to see.

I hope you enjoy what I have started and will continue to paint. There are many more words of motivation that will inspire me and I hope you too.

All my original work and prints are for sale. I am also happy to do commissioned work too.