The first quilt I ever made was an Ohio Star pattern, made using a "Quilt-as You-Go" method. Each block was made completely (with batting and Backing) and then joined together. In those days quilting was done all by hand, and took forever. Rotary cutters and mats were just starting to come into use and became much easier to use than cutting with scissors. I finished my quilt and eventually entered it into the Solano County Fair. The judge complimented the front but said the back looked sloppy from all the "joints". I never again used that method.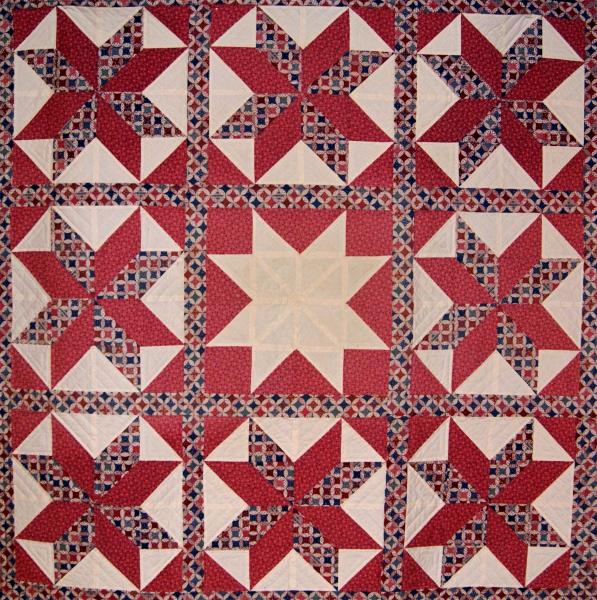 My second quilt was a "Schoolhouse," which was a lot of fun but again took a long time to quilt. By this time, I had purchased a quilting frame. I think I used it to hand-quilt 4 pieces before one of my cocker spaniels jumped through the quilt that was on it; that was a disaster!
My third piece was a Texas Star. I was very proud of this one and of the hand-quilting in it. I entered it in the County Fair in 1986. My husband and I went to the fair to see it, and looked all over the building to find it. I was thinking that maybe it hadn't been good enough to display. Finally, as we were leaving, we saw it at the entrance. There it was with ribbons all around it! It had won the "Best of Show" quilt. I went on to make a bedspread using the same Star pattern but extending it to all the edges. This one graced our bed for many years.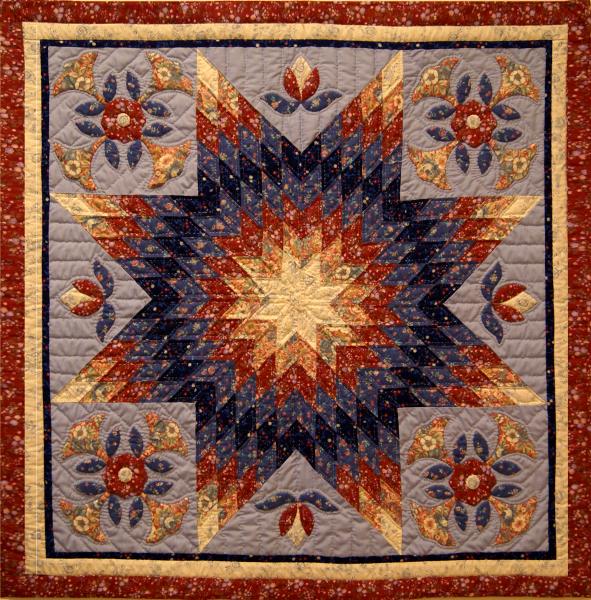 In 1989 I traded my old Pfaff machine for a Bernina 1120. The same year I took a Machine Quilting class from Harriett Hargrave, one of the first to teach it, and my life was changed. This was only sewing multiple diagonal straight lines through a finished quilt but what a difference! No more hand-quilting, although I admire all those who do it. It's just not for me, except for using perle cotton with large stitches for emphasis.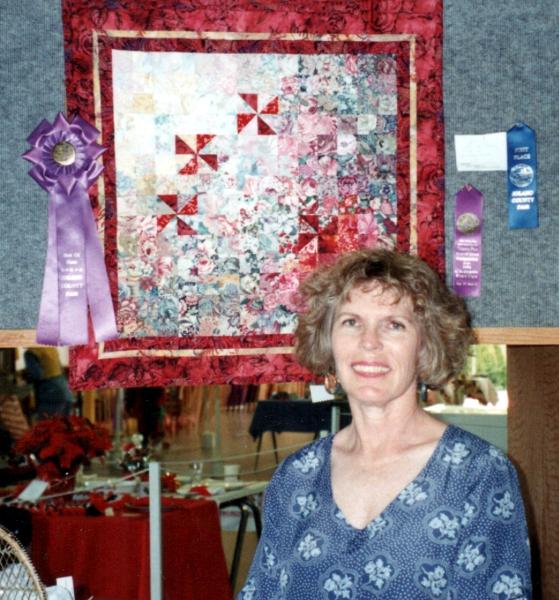 In the 90's I took many classes, making traditional quilts but usually inserting a few changes to make them my own. I became fascinated with the "Watercolor" method which used hundreds of 2" square pieces to shade from one tone to another. I fashioned my own piece featuring 3 pinwheels on a background of multicolored "color-washed" pieces. It took quite a while to make this since my husband kept coming in and rearranging pieces without my knowledge. This quilt took "Best of Show" at the county fair and then went to the Sacramento State Fair to take 2nd place among all the counties.
It was not until the year 2000 that I made my first Art Quilt. It came from a friend's photograph of Lake MacDonald in Glacier National Park. I used the Ruth McDowell method of piecing everything together, only deviating once when I gave up and attached the sky to the mountains. All those ups and down were too difficult to piece. I named it "Mountain Majesty". It also won awards in the best of show category at the California State Fair.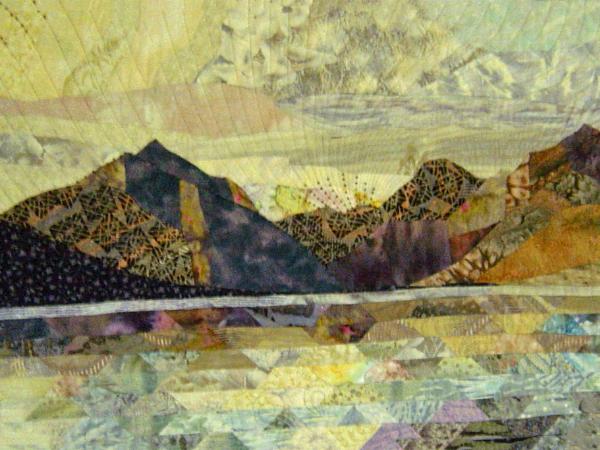 I had made the quilt "Fantasy Tree" in 1998, and "Bouquet of Color" in 2003. I had also made another bedspread and several other traditional quilts. I guess I forgot to include all the baby quilts I had made for grandchildren, 10 of them. By this time I had retired from 34 years of teaching and had more time to quilt.