Mary's inspirations come in a variety of ways. Sometimes it might be a photograph taken by a friend or her husband. Other inspirations might come from store window displays, displays at cultural museums, and walks in nature: Tangled tree roots, rocks, mountains, forests, or streams. Those moments are almost always captured in a photo to preserve the memory. These pictures represent only some of the inspirations and are titled with the name of the quilt they inspired.
---
---
The (Life on a Slant) photo was on the of Architectural Digest several years ago. It was celebrating "Wood" and how far it has come from the log cabin. I took a piece from the lower corner, turned it on a slant and proceeded to make my own design for "Life on a Slant."
---
---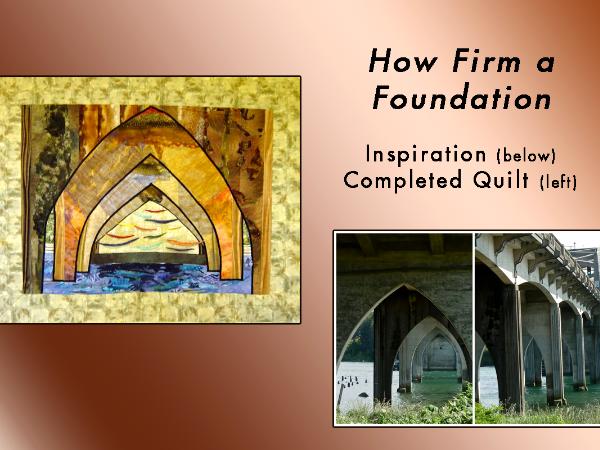 Located in Florence, Oregon, the Siuslaw River Bridge (pronounced sigh-YOU-slaw) is a bascule bridge that spans the Siuslaw River. From street level in town one can view the foundation substructure. That view inspired the contemporary fabric art called "How Firm a Foundation.
While on an RV trip in Alaska we visited Denali National Park. My husband took many photos, but one of them stood out in my mind. It inspired the featured quilt called "Colors of Denali."
---
---
In the summer of 2003, the B&B Complex fires were a linked pair of wildfires that together burned 90,769 acres (367.33 km2) of Oregon forests. The destruction is still visible as you drive over the Santiam Pass. In 2020, Mary and our daughter-in-law, Melissa, drove there for whatever inspirations they could find for various projects. Mary took several photos and this is the resulting quilt titled "Still Standing."


Be the first to post a comment.