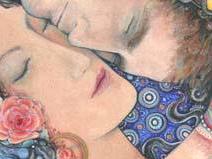 Welcome to the magical Art and original Jewelry of Liza Paizis



Here you will find whimsical fairy art, owl paintings, mermaid prints, cat jewelry, tree of life necklaces, romantic fantasy art and other magical creations by Liza Paizis.
As well as her unique range of inspirational original fantasy art, design and Illustrations, you can also buy Liza's exclusive handmade pewter jewelry, limited edition etchings, art prints, tattoo designs and original paintings.
PLEASE VISIT MY NEW ONLINE SHOP


A self-taught artist born and raised in South Africa, Liza specializes in Fantasy, Symbolist, Art Nouveau, Art Deco and Folk art work, using watercolors, acrylic, pen & ink, metal work, mixed media and natural found objects as well as etching prints.

Her work explores creative consciousness and the natural world with special interest in the divine feminine and masculine, animal totems, archetypal imagery and magical realism.

She has been expressing her mythical art and design for over 25 years and has her artwork in private collections worldwide.

~~ • ~~

"I love painting all things imaginative, symbolic, and inspired by our connection to Nature, one another and the Universe in a visionary way, incorporating mythical, archetypal, folk and fantasy elements grounded in a feminine perspective."


"I absolutely love the painting!
Correspondence was exellent with the seller. She was fast, efficient, and friendly! I was extrememly impressed with how quickly this international item arrived at my home! Kudos for fantastic workmanship and great customer service!!!!!!!! I would recommend her to everyone with extreme confidence ! "


Kate, United Kingdom

~ Fairy Pond Art Print ~ ~•~


** Please note that all my original artwork is protected by copyright laws.

If you are interested in using any of my images, please contact me

and I would be glad to help you **





mermaid and fairy art nature fantasy romantic inspirational symbolist art with dragonfly butterfly cat owl art and jewelry designs for exclusive artisan gifts.