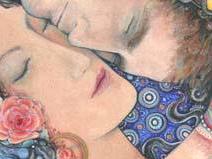 Click an image to enlarge

Art cards with fairy art, mermaid art, cat art, dragonfly art or Goddess art from the original paintings of Liza Paizis. A lovely and affordable way to express yourself with a unique and original design.


Printed on heavyweight matte paper and blank inside. Comes in a clear plastic sleeve with an envelope.




mermaid and fairy art nature fantasy romantic inspirational symbolist art with dragonfly butterfly cat owl art and jewelry designs for exclusive artisan gifts.