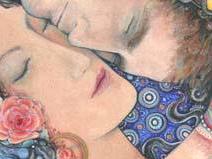 Green Cat original acrylic painting on canvas ~1995~ 15 x 20 inches

Over the last 27 years I have had the privilege of doing a number of different artistic commissions for my customers, ranging from wedding invitations to business logos, tattoos and original paintings.

Below is a selection of the commissions I have undertaken. I do consider commissioned artwork at present, please contact me with your query and I will get back to you as soon as I can!

Mermaids in Atlantis original painting, acrylic ~2011~ 5 foot x 6 foot

***


Tree of Life in green ~ pigment coloured pencil and ink ~2012~ 6.5 x 6.5 inches

***


Super Nova pen & ink drawing ~1995~ approx.24 x 34 inches

***




HummingBirdSong Healing business logo ~2005~

***


Dragonfly and Lotus Flower tattoo design ~2005~

***


Oscar original watercolour and ink painting ~2003~ approx. 10 x 12 inches

***


Imagination 1 and 2 pen & ink drawing ~1995~
approx. 29cm x 39 cm approx 11.5 x 15.5 inches

***


Fantasy 1 & 2 original acrylic and watercolour painting ~1995~ approx. 60cm x 90cm

***


The Fire original oil painting ~2003~ approx 30 cm x 25cm

***


Echo and Narcissis original watercolour painting ~1998~ approx. 40cm x 25cm

***


The Secret Garden watercolour painting ~2012~ 20 x 20 inches

***




Be the first to post a comment.


mermaid and fairy art nature fantasy romantic inspirational symbolist art with dragonfly butterfly cat owl art and jewelry designs for exclusive artisan gifts.