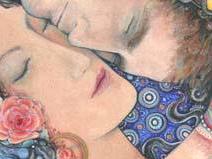 I am a self-taught artist who is deeply passionate about what I create ~ I have always felt great love in expressing the world within and all around me; the flow between our inner selves and that of the timeless, archetypal world which will always exists without.
I love painting all things imaginative, symbolic, and inspired by our connection to Nature, one another and the Universe in a visionary way, incorporating mythical, archetypal, folk and fantasy elements grounded in a feminine perspective.

Born into a multi-national family in South Africa, I have always been sensitive to the expressive beauty and diversity of different cultures, and my unique perspective on art has coloured my intuitive artistic vision.
Ever since holding my first crayon at age two I have been fascinated by art; possessed by the need to draw, paint, print, sculpt or sew what my imagination conjured up.


Combining my interest in the science and poetry of the human psyche, I obtained a degree in Psychology and English Literature whilst beginning my career as a self employed artist in my native city of Johannesburg, South Africa.

I spent a number of years travelling, exhibiting and living in England, Scotland and Australia where I co-owned Redwhisper Studio. I now live in the beautiful Mississippi Valley, Iowa, USA with my husband and a host of birds, deer, squirrels, trees and other natural elements which inspire me to create my original hand made items and artwork which are for sale in America and internationally.

You can read more about my artwork, inspirations and processes on my

Blog

.

*

Thanks for visiting!

Liza

Please note that all my original artwork is protected by copyright laws.
If you are interested in using any of my images, please contact me and I would be glad to help you



11 comments | Read all | Post comment


I was looking for that Khayyam quote, stumbled across your site. Glad I did. Lovely, just lovely.
-- Habib Yusuf, 6/25/18



Thank you for your encouragement Tanyeno!
-- Liza Paizis, 6/27/13



Your artwork is very moving. Glad I found you.
-- Godtisx, 6/27/13



Thank you Lorrie ~ I loved vising your blog, too!
-- Liza Paizis, 2/24/13



This is a beautiful blog, Liza! Thank you for visiting my blog. I really love your creative artwork!
-- Lorrie Morrison, 2/23/13



mermaid and fairy art nature fantasy romantic inspirational symbolist art with dragonfly butterfly cat owl art and jewelry designs for exclusive artisan gifts.