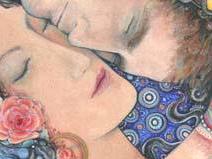 Click an image to view gallery

Original Jewelry


Stunning original Art Nouveau style necklaces, brooches, pendants and keyrings featuring dragonfly and mermaid necklaces, tree of life and butterfly chokers, cat designs plus unique animal and vintage sourced earrings.
Exclusive artisan hand crafted original designs by Liza Paizis



Art Prints


Beautiful art prints of original fairy art, mermaid art, cat art, dragonfly art and Goddess art. All exclusive artwork, paintings and prints by Liza Paizis

Archival giclee prints with pigment inks, each one signed, packaged in a clear plastic sleeve and shipped securely.

Most prints are available in a range of sizes - please contact me here for further information and prices.


Original Paintings


A selection of Liza Paizis original paintings featuring fairy art, mermaid art, goddess art, cat art and dragonfly art romantic art and lovers.
The first group original oil, acrylic and watercolour paintings are for sale, the second group is past work that has been sold.
If you would like an archival giclee art print of one of these lovely paintings, please contact me and I would be glad to help you!



Etchings


Beautiful cat etchings, owl etchings, fairy etchings and etching prints of romance and lovers. All original limited edition etchings, aquatints and solar plate etchings by Liza Paizis.

Etching print making is a process where the artist can reproduce an image by hand thereby creating an affordable, original collectable piece of artwork.




Note Cards


Art cards with fairy art, mermaid art, cat art, dragonfly art or Goddess art from the original paintings of Liza Paizis. A lovely and affordable way to express yourself with a unique and original design.


Printed on heavyweight matte paper and blank inside. Comes in a clear plastic sleeve with an envelope.




T-Shirts & Gifts
I have a fantastic range of original gift items and T-shirts available exclusively for sale on CafePress.com

My Cafepress shop, Liza Paizis Fantasy Art & Design, sells stunning necklaces, shower curtains, t-shirt, i-phone covers and other unique products all from my own original artwork featuring mermaid,dragonfly,cat,fairy,owl and butterfly art and design.


mermaid and fairy art nature fantasy romantic inspirational symbolist art with dragonfly butterfly cat owl art and jewelry designs for exclusive artisan gifts.