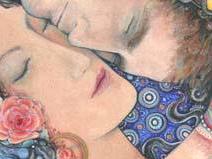 Tree of Life original drawing
Tree of Life original drawing


sold out / unavailable

A beautifully detailed original Tree of Life drawing with Sun and Moon by Liza Paizis.

** Please note that this image is protected by copyright laws. If you are interested in using this image for a tattoo design or any other purpose, please contact me and I would be glad to help you **


mermaid and fairy art nature fantasy romantic inspirational symbolist art with dragonfly butterfly cat owl art and jewelry designs for exclusive artisan gifts.