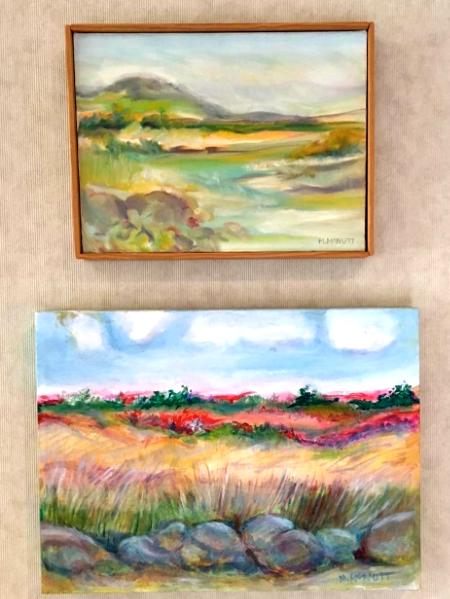 Earlier this year I closed my New York office after more than 20 years and relocated my clinical psychology private practice to the college town of East Stroudsburg, Pennsylvania. I had the good fortune of meeting an esteemed psychiatrist here from whom I am renting a spacious office. After months of working there and enjoying the light pouring in from the three windows and the work I do within that space, I hung two of Mary's paintings that can be viewed as clients enter the room. We are blessed to own many of her beautiful paintings, many of which are uploaded here for your appreciation.
The two landscapes are both works from the latter art of Mary's life, after her vision began to deteriorate from macular degeneration. They are still very evocative of the Maine terrain but in certain respects more impressionistic than her earlier representational work. As her gallery of work here shows, her earliest paintings were realistic, but the bulk of her work was abstract, and often symbolic but not realistic. I find it interesting that she managed to incorporate the two styles into the last period of her work.


Be the first to post a comment.

Previously published:
The Life and Art of Mary Lee McNutt, 1921-2005
RSS
|