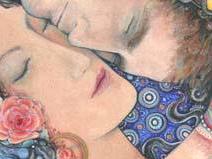 Dragonfly and Lotus Zen art print on rice paper
This is a beautiful reproduction of a Zen painting depicting a dragonfly and beautiful pink Lotus ~ " Awakening "

~ I love painting dragonflies in many forms - they are symbolic of metamorphosis in many cultures, and for Asian cultures it represents harmony and prosperity. To me, they symbolise self-realization and the exquisite beauty and transformative power that is contained in Nature. The Lotus flower in eastern religions is a symbol of purity, enlightenment, self-regeneration and rebirth.....as the soul unfolds like the tender petals to reveal the perfection hidden within.

• The image measures approx 4 x 6.8 inches and is printed with Epson archival pigment inks.
• It is printed on beautiful archival rice paper which is traditionally used for oriental sumi-e painting.
• It has a white border around it for framing and is titled and signed by me on the front in pencil.
• This archival print will last a lifetime with proper care.
• It is sent carefully packaged in a protective plastic sleeve and well protected.

• Please be aware that computer monitors vary with color representation and the actual artwork you receive may differ slightly to what you may see here.



****************************************************************************

Thank you for looking! ~ Please feel free to contact me with any questions about this original piece of artwork!


Dragonfly art © www.LizaPaizis.com



mermaid and fairy art nature fantasy romantic inspirational symbolist art with dragonfly butterfly cat owl art and jewelry designs for exclusive artisan gifts.