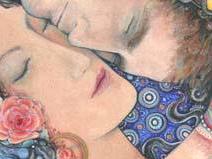 Mermaid and Dolphin archival art print of an original drawing
This is a beautifully detailed archival art print of a mermaid and dolphin, from an original pen and ink and painting of a dreamy by me the artist Liza Paizis.

" Amphitrite "

~ Painting these sensual, magical water beings is a fascination of mine. This drawing depicts the sea nymph Amphitrite, who was loved by Poseidon in greek mythology. He asked the dolphin Delphinus to catch her and persude her to be Posiedon's lover, after which Poseidon rewarded delphinus by making him into the star constillation of that name.......please click on all the thumbnails to enjoy the detail of this painting.


• Printed on beautiful artisan Epson archival paper with Epson archival pigment inks.
• The image measures 12 x 15 inches
• It has a white border around it for framing and is titled & signed by me on the front.
• I package each print very carefully to avoid damage in transit
• This print will last a lifetime with proper care !

** Please be aware that computer monitors vary with colour display and the colours you see may differ slightly from the artwork **


mermaid and fairy art nature fantasy romantic inspirational symbolist art with dragonfly butterfly cat owl art and jewelry designs for exclusive artisan gifts.