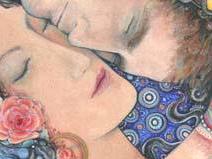 Mermaids in Atlantis fantasy art print from an original painting by Liza Paizis
This is an exquisite archival art print of two beautiful mermaids exploring the watery ruins of the forgotten city of ancient Atlantis by Liza Paizis.

The story of Atlantis is very evocative, and I delighted in portraying many detailed expressions of all the sea creatures I imagined to be lurking amongst theses magical ruins...
You can see the entire painting on the thumbnail above - Please click and zoom on all the thumbnails to enjoy the wonderful expression and detail of this painting.

~ I really love painting mermaids - there is something very alluring about their seductive watery existence. The original painting measured nearly 6 foot x 6 foot (2m x 2m) and was done with acrylics in a watercolour style.

The print measures 30cm x 30cm (approx. 12 x 12 inches) and is printed on beautiful Epson high definition archival watercolor paper with Epson archival pigment inks, giving it a true original watercolor look and feel.
It will last a lifetime with proper care.

All prints come in a clear plastic sleeve, very securely packaged with all print details included.

- please be aware that computer monitors vary with colour display and the colours you see may differ slightly from the original artwork.



Mermaid Art © LizaPaizis.com


mermaid and fairy art nature fantasy romantic inspirational symbolist art with dragonfly butterfly cat owl art and jewelry designs for exclusive artisan gifts.