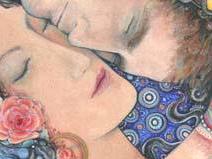 Kiss Limited Edition Romantic Etching of Lovers with solar plate
This is a beautifully Expressive Limited Edition etching of two lovers by Liza Paizis.

This is an original, collectible piece of art and is produced entirely by hand through my etching press.

The print measures 16cm x 16.5cm (6 1/4 x 6 1/2 inches) and is a Solar Plate Etching whereby the image is transferred by the UV rays of the sun onto a plastic polymer plate.

It is number 7 in an edition of only 8 in Black state. (black ink)
The paper measures 27cm x 29cm - it is beautiful handmade mulberry bark paper with a lovely smooth silky texture.
This print has been delicately handcoloured with watercolours.

- All my etchings come signed, titled and numbered in pencil on the front, along with details of editioning and states.
The print is sent packaged in a protective plastic sleeve and carefully rolled in a hard case tube.
I have found this to be the most secure way of shipping larger prints to protect from damage.


~ Feel free to contact me with any questions you may have regarding this original piece of artwork!


~ Please read my Shop & Shipping Policies for more info ~


mermaid and fairy art nature fantasy romantic inspirational symbolist art with dragonfly butterfly cat owl art and jewelry designs for exclusive artisan gifts.