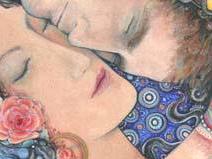 Lighthouse Keeper illustration whimsical lighthouse etching hand colored with poem
This beautifully expressive etching of a woman in a lighthouse by Liza Paizis www.LizaPaizis.com
I love lighthouses and often imagine what it must be like to live in one amidst the crashing waves and lonesome sea...

This poem accompanies the image:

"Here I cast my solitary light
Upon all that gather beneath me :
The moonlit waves at play with ships,
The shark's eggs, turtles & mermaids fair,
The love-struck sailors in their wake ;
I hold them all to my shining heart
longingly
Then safe into the stormy night I set them free..." ~ Liza Paizis ~


• This is an original, collectible piece of art and is produced entirely by hand through my etching press....please click on the thumbnails to have a closer look at the lovely movement and detail of this piece.

• It has been lovingly hand colored in watercolors, and the print itself measures 12.5cm x 19.5cm (4 3/4 x 7 3/4 inches).
• It number 13 of only 25 prints in this limited edition.
• The paper is rough white Bockingford 300gsm watercolour paper and measures approx. 22.5cm x 30.5cm (approx 9 x 12 inches)
• I have hand-colored parts delicately with gouache which brings out the illustrative quality of this piece.
• This item is one of a kind!
• You will receive the print in the photos.

• All my etchings come signed, titled and numbered in pencil on the front, and have details of editioning and states on the back.
• It is packaged with a protective plastic sleeve cardboard backing. It will be sent flat and very well protected.

• Please be aware that computer monitors vary with colour display and the colours you see may differ slightly from the original artwork.


****************************************************************************


~ Please read my Shop & Shipping Policies for more info ~



mermaid and fairy art nature fantasy romantic inspirational symbolist art with dragonfly butterfly cat owl art and jewelry designs for exclusive artisan gifts.