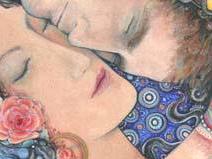 Little Cat with Fish etching hand painted limited edition cat etching
This is a gorgeous cat etching by Liza Paizis titled "Catfish".

This is an original, collectible piece of art and is produced entirely by hand through my etching press.

I adore cats, and love to depict them in all forms. This is a quirky etching with a little black cat swimming in a fantasy with goldfish!


• This limited edition etching and aquatint is number 28 from an edition of only 30 in black ink
• The actual image is 3 x 3 inches (7.5 cmx 7.5cm)
• The paper size is 7 x 7.5 inches (18cm x 19cm) and is acid-free handmade mulberry bark paper with a lovely surface texture.
I have hand-colored parts delicately with gouache which brings out the illustrative quality of this piece.
All my etchings come signed, titled and numbered in pencil on the front, and have details of editioning and states on the back.

• It is packaged with a protective plastic sleeve and acid free foamcore backing.
• It will be set flat and well protected for shipping.


~ Please read my Shop & Shipping Policies for more info ~



mermaid and fairy art nature fantasy romantic inspirational symbolist art with dragonfly butterfly cat owl art and jewelry designs for exclusive artisan gifts.